Madeleine Planeix-Crocker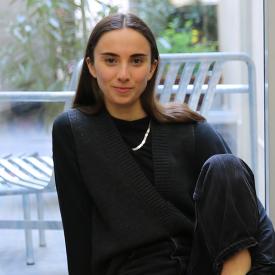 Born and raised in Los Angeles, Madeleine Planeix-Crocker is associate curator at Lafayette Anticipations.
In 2018, she founded the "Warm Up Sessions", a cycle of public and participative meetings around training practices in dance and performance. In the spring of 2021, she proposes the "Dérives" series, which aims to contribute to the writing of new histories of the arts through dialogues co-constructed with contemporary artists. Her interests lie at the crossroads of research and curation of feminist, queer and intersectional performances.
Madeleine is also co-director of the Chair "Troubles, Dissidences and Aesthetics" at the Beaux Arts de Paris and a permanent member of the Scientific Research Council of the ESAD in Reims.
A graduate of Princeton University in cultural studies, Madeleine obtained a Master's degree in Media, Art and Creation from HEC Paris and a Master's degree from EHESS. There she carried out a research-creation project with the association Women Safe, where she now runs a theatre and creative writing workshop. Madeleine is currently doing a thesis at EHESS (CRAL) on contemporary communal performance in France.
She has practiced dance and theatre since childhood.