About Xinyi Cheng's exhibition
Saturday 30 Apr 2022 from 3pm to 4:30pm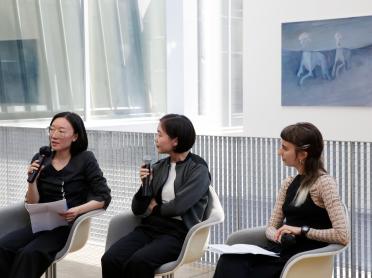 This discussion marks the opportunity to delve into the paintings of Xinyi Cheng in the presence of the artist, Dr. Mi You (Professor, University of Kassel / documenta Institute) and Madeleine Planeix-Crocker (associate curator, Lafayette Anticipations).
The practices of magic and visionary painting will be summoned as prisms to enter into Cheng's works where elements are held in suspension. We will sit with the disorientation of gravity-defying bodies, unpack the subtle encounters between the sacred and the profane, and listen to the sounds of slowness as shared through the paintings.

Cheng studied at the Academy of Arts & Design at Tsinghua University and the Maryland Institute College of Art.
From 2016 to 2017, she participated in the Rijksakademie Residency in the Netherlands, and in 2019 she was the recipient of Art Basel's Baloise Art Prize.
She was the subject of a major solo exhibition at Hamburger Bahnhof, Berlin (2020) and has also participated in recent group exhibitions at venues including the 13th Shanghai Biennale at Power Station of Art, Shanghai (2021); Bourse de Commerce, Paris (2021); Palais de Tokyo, Paris (2020); Frans Hals Museum, Haarlem, Netherlands (2018).
Mi You is a professor of Art and Economies at the University of Kassel / documenta Institute.
Prior to joining the University of Kassel, she was a research associate in the Art and Media Studies department at the Academy of Media Arts Cologne (2014-2021). She has also held lecturer positions in the Visual Cultures, Curating and Contemporary Art program of the School of Art, Design and Architecture, Aalto University (2019-2020), in the Roaming Academy program of the Dutch Art Institute (2018-2019) and in the Media Art program of the University of the Arts Bremen (2016-2017). Dr. You is trained in media theory and science and technology studies. Her academic interests are in new and historical materialism, performance philosophy, as well as the history, political theory and philosophy of Eurasia. She completed her PhD studies with Prof. Dr. Pexte Bexte and Prof. Dr. Marie-Luise Angerer at the Academy of Media Arts Cologne in 2019.
Dr. You has worked internationally as a curator. She works with the Silk Road as a figuration for old and new networks and technologies. Under this rubric, she has curated shows and programs at Asian Culture Center in Gwangju, South Korea, Ulaanbaatar International Media Art Festival, Mongolia (2016), Zarya CCA, Vladivostok (2018) and with Binna Choi, she is co-steering a research/curatorial project "Unmapping Eurasia" (2018-). At the same time, her interests in politics around technology and futures led her to work on "actionable speculations", articulated in the exhibition, workshops and sci-fi-a-thon "Sci-(no)-Fi" at the Academy of the Arts of the World, Cologne (2019), as well as in her function as chair of committee on Media Arts and Technology for the transnational NGO Common Action Forum. She is one of the curators of the 13thShanghai Biennale (2020-2021).
She co-initiated (in 2011) and is committee member of EU-funded project "Transnational Dialogues", an exchange platform between China, Europe and Brazil. She is a fellow of Alexander von Humboldt Foundation (Bonn), Zentrum Paul Klee (Bern) and Independent Curators International (New York).  She is a member of the Academy
 of Arts of the World, and serves as director of Arthub and advisor to Institute for Provocation.
Born and raised in Los Angeles, Madeleine Planeix-Crocker is associate curator at Lafayette Anticipations.
In 2018, she founded the "Warm Up Sessions", a cycle of public and participative meetings around training practices in dance and performance. In the spring of 2021, she proposes the "Dérives" series, which aims to contribute to the writing of new histories of the arts through dialogues co-constructed with contemporary artists. Her interests lie at the crossroads of research and curation of feminist, queer and intersectional performances.
Madeleine is also co-director of the Chair "Troubles, Dissidences and Aesthetics" at the Beaux Arts de Paris and a permanent member of the Scientific Research Council of the ESAD in Reims.
A graduate of Princeton University in cultural studies, Madeleine obtained a Master's degree in Media, Art and Creation from HEC Paris and a Master's degree from EHESS. There she carried out a research-creation project with the association Women Safe, where she now runs a theatre and creative writing workshop. Madeleine is currently doing a thesis at EHESS (CRAL) on contemporary communal performance in France.
She has practiced dance and theatre since childhood.
The lafayetteanticipations.com website uses cookies for audience measurement purposes.
By continuing your navigation on this site, you accept their use.