Online
Warm Up Session with Mohamed El Khatib
Monday 09 Nov 2020 from 5:30pm to 7pm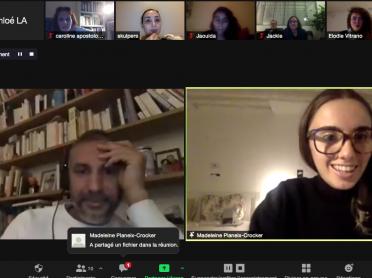 Following the government announcements, the Warm Up Session with director Mohamed El Khatib will take place online. Our ticketing team will contact all ticket holders very soon to inform them of this change.

Stay tuned via our social networks and newsletter to follow our future programming online. Thank you for your understanding, see you soon!
During this Warm Up Session, stage director Mohamed El Khatib invites us to discover the texts that compose his literary landscape, namely those words to which he turns at the start of a theatrical endeavor.

This Session is a warm up expressed in the form of a shared reading practice, a return to the texts that shape our collective imaginaires and influence our life stories.
Le performeur, auteur-metteur en scène et réalisateur Mohamed El Khatib, cofonde, en 2008, le Collectif Zirlib autour du postulat : l'esthétique n'est pas dépourvue de sens politique.
Il développe des projets de fictions documentaires dans le champ du théâtre, de la littérature ou du cinéma. Après Moi, Corinne Dadat qui proposait à une femme de ménage et à une danseuse de faire un point sur leurs compétences, il continue son exploration de la classe ouvrière avec la pièce, Stadium, qui invite sur scène 58 supporters du Racing Club de Lens. Mohamed El Khatib a obtenu le Grand Prix de Littérature dramatique 2016 avec la pièce Finir en beauté où il évoque la fin de vie de sa mère. Son texte C'est la vie, primé par l'Académie française en 2018, clôt ce cycle sur la question du deuil. Il aborde la question de l'héritage dans son film Renault 12, un road movie entre Orléans et Tanger sur les écrans en 2019.
Madeleine Planeix-Crocker is Associate Curator at Lafayette Anticipations.
Madeleine is also co-director of the "Troubles, Dissidences et Esthétiques" Chair at the Beaux-Arts de Paris and a permanent member of the Scientific Research Council of the ESAD, Reims.
A graduate of Princeton University in cultural studies, Madeleine earned a Master's degree in Media, Art and Creation from HEC Paris and a Master's degree from the École des Hautes Études en Sciences Sociales (EHESS). There she led an arts-based research-action project with Women Safe non-profit, where she now facilitates a theater and creative writing workshop. Madeleine is currently a PhD candidate at the EHESS (CRAL), studying practices for commoning in contemporary performance.
She has been practicing dance and theater since childhood.