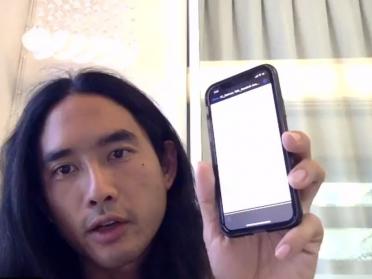 50min
Online event since 1 year et 6 mois
Online event since 1 year et 6 mois
Online event since 1 year et 6 mois
Dérives with Korakrit Arunanondchai
Thursday 25 Mar 2021 from 6pm to 6:51pm
How to participate in writing another history of art, one that is iconoclastic, bold, and inclusive? Dérives, a new program launched at Lafayette Anticipations, delves into artists' imaginaries.
Through conversations that reveal the diversity of their inspirations, these creators will share new cartographies that celebrate the porosity of creative universes as well as the hybrid references nourishing the composition of new work. Dérives proposes to stand with the thoughts and emotions of our time, to the rhythm of the images, sounds, visions that nurture artists and their worlds.

A series of two encounters per season, curated by Madeleine Planeix-Crocker.

For this very first Dérives talk, Thai artist, filmmaker and storyteller Korakrit Arunanondchai pools textual and sensorial sources as portals to his newest film Songs for Dying. The film continues a line of exploration previously explored by the artist through installation and painting, in which different registers of storytelling are exposed : from the sacred intimate, to global politics, passing through animistic belief systems, local myths, and new technologies.

Through this discussion conceived as a journey, we dive deep into the writings of historians, religious studies scholars, and biologists echoed by Arunanondchai's personal archives of felt memory, to unpack notions of entangled communions, public and private rituals, as well as performances of love and protest featured in Songs for Dying*.

* Songs for Dying is a coproduction of the Kunsthall Trondheim, 13th Gwangju Biennale and the Han Nefkens Foundation.

Artiste visuel, cinéaste et conteur, Korakrit Arunanondchai utilise sa pratique polyvalente pour raconter des histoires ancrées dans la transplantation et l'hybridité culturelles.
Son œuvre fusionne fiction et poésie et propose des expériences synesthétiques engagées dans une multitude de sujets principalement basés sur la vie de la famille, des ami·e·s et des collègues autant que sur les mythes locaux. Parmi ses principales expositions individuelles institutionnelles, citons MoMA PS1, New York ; Palais de Tokyo, Paris ; Kiasma, Helsinki ; Ullens Center for Contemporary Art, Pékin et S.M.A.K, Gand, entre autres.
Son travail a été présenté à la Biennale de Venise, à la Biennale de Whitney et au Sommet de l'art de Dhaka.
Born and raised in Los Angeles, Madeleine Planeix-Crocker is associate curator at Lafayette Anticipations.
In 2018, she founded the "Warm Up Sessions", a cycle of public and participative meetings around training practices in dance and performance. In the spring of 2021, she proposes the "Dérives" series, which aims to contribute to the writing of new histories of the arts through dialogues co-constructed with contemporary artists. Her interests lie at the crossroads of research and curation of feminist, queer and intersectional performances.
Madeleine is also co-director of the Chair "Troubles, Dissidences and Aesthetics" at the Beaux Arts de Paris and a permanent member of the Scientific Research Council of the ESAD in Reims.
A graduate of Princeton University in cultural studies, Madeleine obtained a Master's degree in Media, Art and Creation from HEC Paris and a Master's degree from EHESS. There she carried out a research-creation project with the association Women Safe, where she now runs a theatre and creative writing workshop. Madeleine is currently doing a thesis at EHESS (CRAL) on contemporary communal performance in France.
She has practiced dance and theatre since childhood.
- Harney, Stefano & Fred Moten. Les sous-communs - Planificiation fugitive et et étude noire. Brooks, 2021
- Mircea Eliade, Le sacré et le profane, Gallimard, 1988.
- Peter Wohlleben, La vie secrète des arbres, Les Arènes Ed., 2017
- Seong-nae Kim, "The Work of Memory : Ritual Laments of the Dead and Korea's Cheju Massacre" (2013) [EN]
- Merlin Sheldrake, Le Monde Caché, First, 2021
- Seong-nae Kim, "Dances of Toch'aebi and Songs of Exorcism in Cheju Shamanism" (1992) [EN]
- Lepecki, André. "Choreopolice and Choreopolitics: or, the task of the dancer." TDR: The Drama Review, Vol. 57, No. 4, 2013, pp.13-27.
- Maree brown, adrienne. Emergent Strategy: Shaping Change, Changing Worlds. Chico, AK Press, 2017.
The lafayetteanticipations.com website uses cookies for audience measurement purposes.
By continuing your navigation on this site, you accept their use.