Warm Up Session Jean-Biche x Closer Music
Saturday 01 Feb 2020 from 2:30pm to 3:45pm
Sunday 02 Feb 2020 from 1pm to 2:15pm
Free admission upon registration
This Warm Up Session is part of the Closer Music Festival with multi-disciplinary artist Jean-Biche.
Open to all.
Recommended to wear comfortable clothes to move in.
For those who can, please bring high heels.

For this next Session, Jean-Biche proposes a gender-bending warm-up, embodying the subversive strategies of performance art and sharing them with the participants. Movement will be followed by a reflective exchange was we disidentify with normative constructs through a collective corporal act.

Warm Up Sessions : a training for the body and mind. From jumpstyle to ballet, from break dance to contemporary, practice then discuss the indispensable movements and gestures that anticipate a performance - the ultimate moment of sharing with an audience. Each Session will begin with a warm up led by the invited dancer or collective, and will be followed by a discussion on themes bridging body movements and social realities : the performativity of the human condition, circulations and physical disruptions in a decorporalized era. With the Warm Up Sessions, we aspire to associate bodily effort with mindful effervescence.

Curated by Madeleine Planeix-Crocker.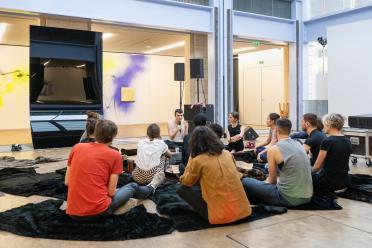 Jean-Biche is a multidisciplinary artist who has grown up in the world of nightlife: first of all as a DJ, before also trying his hand at performance, styling, make-up, graphics, artistic direction...
Now accustomed to unique projects, he has collaborated with Paco Rabanne, Michele Lamy, Jean-Paul Gaultier, Brice Dellsperger, Philippe Decouflé & Damien Jalet, as well as Crazy Horse and Manko Cabaret, for which he has been a resident artist during the 4 years of their exploitation.
Madeleine Planeix-Crocker is Associate Curator at Lafayette Anticipations.
Madeleine is also co-director of the "Troubles, Dissidences et Esthétiques" Chair at the Beaux-Arts de Paris and a permanent member of the Scientific Research Council of the ESAD, Reims.
A graduate of Princeton University in cultural studies, Madeleine earned a Master's degree in Media, Art and Creation from HEC Paris and a Master's degree from the École des Hautes Études en Sciences Sociales (EHESS). There she led an arts-based research-action project with Women Safe non-profit, where she now facilitates a theater and creative writing workshop. Madeleine is currently a PhD candidate at the EHESS (CRAL), studying practices for commoning in contemporary performance.
She has been practicing dance and theater since childhood.