Online event since 1 year et 8 mois
Online event since 1 year et 8 mois
Online event since 1 year et 8 mois
Dérives with Ligia Lewis
Sunday 26 Sep 2021 from 9:30am to 11am
For this next Dérives talk with choreographer and director Ligia Lewis, we will explore her most recent work opening onto bodies of stillness through the lenses of critical race theory, performance and film studies.
The radical contributions of thinkers David S. Marriott, Tina Campt, and Hortense Spillers will be woven into conversation with the arresting work of artists such as Steve McQueen - sources central to Lewis' movement-based practices and lines of questioning.

In conversation* with Madeleine Planeix-Crocker, associate curator.

As part of the Echelle Humaine festival, the film Deader than Dead by Ligia Lewis will be screened on 25 and 26 September.

*The talk is held in English and will be available for replay in our media library in October, with French subtitles.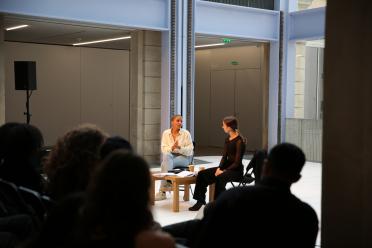 Ligia Lewis est chorégraphe et danseuse. Son travail chorégraphique glisse entre le familier et l'inconnu.
Le corps, dans et par la pratique incarnée, rencontre des métaphores sonores et visuelles matérialisant l'énigme, la poésie et la dissonance dans son travail.
Sa dernière création scénique s'intitule Still Not Still (2021), et succède à une performance produite dans un contexte muséal, deader than dead (2020), présentée désormais sous forme de film.
En tant que danseuse, elle a collaboré avec de nombreux.ses artistes tel.le.s que Ariel Efraim Ashbel, Mette Ingvartsen, Eszter Salamon ou Les Ballets C de la B. Elle a également travaillé avec l'artiste musical Twin Shadow, l'artiste visuelle Wu Tsang, et avec le collectif de DJ NON Worldwide.
Madeleine Planeix-Crocker is Associate Curator at Lafayette Anticipations.
Madeleine is also co-director of the "Troubles, Dissidences et Esthétiques" Chair at the Beaux-Arts de Paris and a permanent member of the Scientific Research Council of the ESAD, Reims.
A graduate of Princeton University in cultural studies, Madeleine earned a Master's degree in Media, Art and Creation from HEC Paris and a Master's degree from the École des Hautes Études en Sciences Sociales (EHESS). There she led an arts-based research-action project with Women Safe non-profit, where she now facilitates a theater and creative writing workshop. Madeleine is currently a PhD candidate at the EHESS (CRAL), studying practices for commoning in contemporary performance.
She has been practicing dance and theater since childhood.
David S. Marriott, Corpsing; or, The Matter of Black Life (2016)
Tina Campt, Listening to Images (2017)
Sylvia Wynter, No Humans Involved (2015)
Katherine McKittrick, Sylvia Wynter: On Being Human as Praxis (2014)
Juliette Singh, Unthinking Mastery: Dehumanism and Decolonial Entanglements (2018)
Ralph Lemon, Performing a Distance (2020)