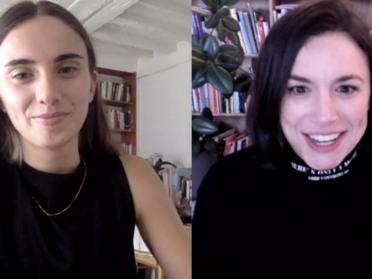 1h13
Online event since 1 year et 10 mois
Online event since 1 year et 10 mois
Online event since 1 year et 10 mois
Dérives with Cécile B. Evans
Thursday 15 Jul 2021 from 5pm to 6:15pm
Cécile B. Evans' work deals with emotions, resistance, and change.
For this next Dérives talk, we will explore the artist's shifting, playful, and deep investment with the various sources that inspire their films, from collected Tweets to classical ballet.

In conversation with associate curator Madeleine Planeix-Crocker, Cécile B. Evans will discuss questions of visibility, ethics, and collaboration as present in their creative process.

Cécile B. Evans is an American-Belgian artist living and working in Saint-Denis.
Evans' work examines the value of emotion and its rebellion as it comes into contact with ideological, physical, and technological structures. They are currently working on a new performance commission for the MOVE festival at Centre Pompidou Paris (FR). Recent selected solo exhibitions include 49 Nord 6 Est - Frac Lorraine (FR), Museum Abteiberg (DE), Tramway (UK), Chateau Shatto (US), Museo Madre (IT), mumok Vienna (AT), Castello di Rivoli (IT), Galerie Emanuel Layr, Vienna (AT), Tate Liverpool (UK), Kunsthalle Aarhus (DK), M Museum Leuven (BE), De Hallen Haarlem (NL), and Serpentine Galleries (UK). Evans' work has been included amongst others at Whitechapel Gallery (UK), Haus der Kunst (DE), Mito Art Tower (JP), Renaissance Society Chicago (US), the 7th International Moscow Biennale (RU), the 4th Ural Industrial Biennial (RU), Galerie Kamel Mennour (FR), Louisiana Museum of Modern Art, Copenhagen (DK), the 9th Berlin Biennale (DE), the 20th Sydney Biennale (AUS), Fundació Joan Miró, Barcelona (ES), and Musée d'Art Moderne de Paris (FR). Evans' films have been screened in festivals such as the New York Film Festival and Rotterdam International. Public collections include The Museum of Modern Art, New York (US), The Rubell Family Collection, Miami (US), Whitney Museum of American Art (US), De Haallen (NL), Castello di Rivoli, Turin (IT), Louisiana Museum of Modern Art, Copenhagen (DK), and FRAC Auvergne (FR).
Madeleine Planeix-Crocker is Associate Curator at Lafayette Anticipations.
Madeleine is also co-director of the "Troubles, Dissidences et Esthétiques" Chair at the Beaux-Arts de Paris and a permanent member of the Scientific Research Council of the ESAD, Reims.
A graduate of Princeton University in cultural studies, Madeleine earned a Master's degree in Media, Art and Creation from HEC Paris and a Master's degree from the École des Hautes Études en Sciences Sociales (EHESS). There she led an arts-based research-action project with Women Safe non-profit, where she now facilitates a theater and creative writing workshop. Madeleine is currently a PhD candidate at the EHESS (CRAL), studying practices for commoning in contemporary performance.
She has been practicing dance and theater since childhood.
Amos' World, video installation, 2017-18, co-commissioned by mumok (Vienna), Museum Abteiberg, FRAC Lorraine, and Tramway (Glasgow), courtesy the artist, LAYR Vienna, and Chateau Shatto (Los Angeles).
What the Heart Wants, video installation, 2016, commissioned by the 9th Berlin Biennale in co-production with De Hallen Frans Hals Museum, Kunsthalle Winterthur, and Kunsthalle Aarhus. Courtesy the artist.
Notations for an Adaptation of Giselle (welcome to whatever forever), 6 channel installation, 2020, commissioned by Centre Pompidou, curated by Caroline Ferreira. Featuring performances by Alexandrina Hemsley and Sakeema Crook.
for A Future Adaptation (Willis' battle of whatever forever), 3 channel installation, 2021, co-commissioned by Kistefos Museum and Ballet Nationale de Marseille / (LA)HORDE, curated by Martha Kirszenbaum. Featuring performances by members of Ballet National de Marseille and L'Ecole Nationale de Danse de Marseille. Courtesy the artist, LAYR Vienna, and Chateau Shatto (Los Angeles). Part of the ongoing project A Future Adaptation