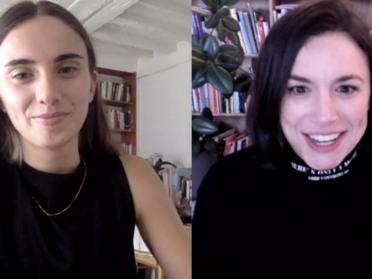 1h13
Online event since 1 year et 2 mois
Online event since 1 year et 2 mois
Online event since 1 year et 2 mois
Dérives with Cécile B. Evans
Thursday 15 Jul 2021 from 5pm to 6:15pm
Cécile B. Evans' work deals with emotions, resistance, and change.
For this next Dérives talk, we will explore the artist's shifting, playful, and deep investment with the various sources that inspire their films, from collected Tweets to classical ballet.

In conversation with associate curator Madeleine Planeix-Crocker, Cécile B. Evans will discuss questions of visibility, ethics, and collaboration as present in their creative process.

Cécile B. Evans est un·e artiste américano-belge qui vit et travaille à Londres.
L'œuvre d'Evans examine la valeur de l'émotion et de sa rébellion au contact de structures idéologiques, physiques et technologiques. Iel travaille actuellement sur une nouvelle commande de performance pour le festival MOVE au Centre Pompidou Paris (FR). Parmi les expositions individuelles récemment sélectionnées, citons 49 Nord 6 Est - Frac Lorraine (FR), Museum Abteiberg (DE), Tramway (UK), Chateau Shatto (US), Museo Madre (IT), mumok Vienna (AT), Castello di Rivoli (IT), Galerie Emanuel Layr, Vienne (AT), Tate Liverpool (UK), Kunsthalle Aarhus (DK), M Museum Leuven (BE), De Hallen Haarlem (NL), et Serpentine Galleries (UK). Le travail d'Evans a été présenté, entre autres, à la Whitechapel Gallery (UK), à la Haus der Kunst (DE), à la Mito Art Tower (JP), à la Renaissance Society Chicago (US), à la 7e Biennale internationale de Moscou (RU) et à la 4e Biennale industrielle de l'Oural (RU), Galerie Kamel Mennour (FR), Louisiana Museum of Modern Art, Copenhague (DK), 9e Biennale de Berlin (DE), 20e Biennale de Sydney (AUS), Fundació Joan Miró, Barcelone (ES), et Musée d'Art Moderne de Paris (FR). Les films d'Evans ont été projetés dans des festivals tels que le New York Film Festival et le Rotterdam International. Les collections publiques comprennent le Museum of Modern Art, New York (US), la Rubell Family Collection, Miami (US), le Whitney Museum of American Art (US), De Haallen (NL), le Castello di Rivoli, Turin (IT), le Louisiana Museum of Modern Art, Copenhague (DK) et le FRAC Auvergne (FR).
Born and raised in Los Angeles, Madeleine Planeix-Crocker is associate curator at Lafayette Anticipations.
In 2018, she founded the "Warm Up Sessions", a cycle of public and participative meetings around training practices in dance and performance. In the spring of 2021, she proposes the "Dérives" series, which aims to contribute to the writing of new histories of the arts through dialogues co-constructed with contemporary artists. Her interests lie at the crossroads of research and curation of feminist, queer and intersectional performances.
Madeleine is also co-director of the Chair "Troubles, Dissidences and Aesthetics" at the Beaux Arts de Paris and a permanent member of the Scientific Research Council of the ESAD in Reims.
A graduate of Princeton University in cultural studies, Madeleine obtained a Master's degree in Media, Art and Creation from HEC Paris and a Master's degree from EHESS. There she carried out a research-creation project with the association Women Safe, where she now runs a theatre and creative writing workshop. Madeleine is currently doing a thesis at EHESS (CRAL) on contemporary communal performance in France.
She has practiced dance and theatre since childhood.
Amos' World, video installation, 2017-18, co-commissioned by mumok (Vienna), Museum Abteiberg, FRAC Lorraine, and Tramway (Glasgow), courtesy the artist, LAYR Vienna, and Chateau Shatto (Los Angeles).
What the Heart Wants, video installation, 2016, commissioned by the 9th Berlin Biennale in co-production with De Hallen Frans Hals Museum, Kunsthalle Winterthur, and Kunsthalle Aarhus. Courtesy the artist.
Notations for an Adaptation of Giselle (welcome to whatever forever), 6 channel installation, 2020, commissioned by Centre Pompidou, curated by Caroline Ferreira. Featuring performances by Alexandrina Hemsley and Sakeema Crook.
for A Future Adaptation (Willis' battle of whatever forever), 3 channel installation, 2021, co-commissioned by Kistefos Museum and Ballet Nationale de Marseille / (LA)HORDE, curated by Martha Kirszenbaum. Featuring performances by members of Ballet National de Marseille and L'Ecole Nationale de Danse de Marseille. Courtesy the artist, LAYR Vienna, and Chateau Shatto (Los Angeles). Part of the ongoing project A Future Adaptation
The lafayetteanticipations.com website uses cookies for audience measurement purposes.
By continuing your navigation on this site, you accept their use.