Dérives with Mona Varichon
Saturday 23 Apr 2022 from 2pm to 3:30pm
The discussion is followed by a workshop led by the artist. In French.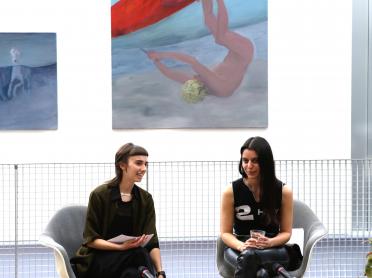 A discussion to immerse yourself in the work of Mona Varichon, who recomposes images and sounds documenting social gatherings.
The video artist and Madeleine Planeix-Crocker (associate curator) discuss the sources that inform her work: the words of artists, sociologists and youtubers.

The discussion is followed by a workshop led by the artist.
Mona Varichon is an artist and a translator.
She wonders where and for whom artworks live, if art can exist online or in a community before it exists in a museum, and if that is where its most discerning viewers are. With the material and tools of everyday life, such as advertising, social networks or the words of those closest to her, her photos and videos draw a chronicle of the present time that seeks to pay homage to it, while revealing the sociological realities that drive it and make it worse.
Her work has recently been presented at the Capc musée d'art contemporain, Bordeaux; at the Festival Les Urbaines, Lausanne; at the Festival des Chichas de la Pensée at the Magasins Généraux, Pantin; at The Vanity gallery, Los Angeles and Balice Hertling, Paris; online at Renaissance TV, Chicago, Jeu de Paume Lab, Paris and Cinema 3, ICA London; at the experimental cinema l'Etna, Montreuil; at the Redcat Theatre and Echo Park Film Center, Los Angeles; at Fiesta Hall in Plummer Park and the Egyptian Theatre, Hollywood.
Born and raised in Los Angeles, Madeleine Planeix-Crocker is associate curator at Lafayette Anticipations.
In 2018, she founded the "Warm Up Sessions", a cycle of public and participative meetings around training practices in dance and performance. In the spring of 2021, she proposes the "Dérives" series, which aims to contribute to the writing of new histories of the arts through dialogues co-constructed with contemporary artists. Her interests lie at the crossroads of research and curation of feminist, queer and intersectional performances.
Madeleine is also co-director of the Chair "Troubles, Dissidences and Aesthetics" at the Beaux Arts de Paris and a permanent member of the Scientific Research Council of the ESAD in Reims.
A graduate of Princeton University in cultural studies, Madeleine obtained a Master's degree in Media, Art and Creation from HEC Paris and a Master's degree from EHESS. There she carried out a research-creation project with the association Women Safe, where she now runs a theatre and creative writing workshop. Madeleine is currently doing a thesis at EHESS (CRAL) on contemporary communal performance in France.
She has practiced dance and theatre since childhood.
The lafayetteanticipations.com website uses cookies for audience measurement purposes.
By continuing your navigation on this site, you accept their use.