x Cancelled x Touchy feelings: a conversation with Sianne Ngai
Saturday 23 Jul 2022 from 5pm to 6:30pm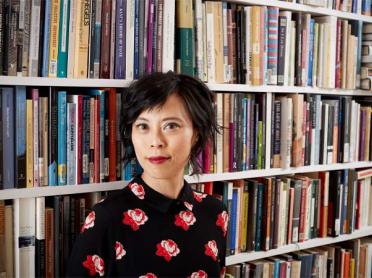 / ! \ We regret to inform you that this talk cannot take place due to the impossibility for the theorist to travel to Paris.


What happens when we listen to the frequencies of affects?
In resonance with Lina Lapelytè's exhibition, Sianne Ngai develops her research on 'ugly affects' to discuss the politics of emotions arising from impeded speech.

Sianne Ngai is an American cultural theorist, literary critic, and feminist scholar.
Her work is most broadly concerned with the analysis of aesthetic forms and judgments specific to capitalism. She is Professor of English at University of Chicago (since 2017). Previously, she was Professor of English at University of Stanford (2000-2007, 2011-2017). Ngai earned her B.A. and M.F.A. from Brown University, Providence, in 1993 and 1995, her PhD. from Harvard in 2000, and an honorary Doctorate of Philosophy in Humanities from the University of Copenhagen in 2015.
Her first book, Ugly Feelings (2005, Harvard UP) investigates the aesthetics and politics of non-prestigious, non-cathartic negative emotions—envy and irritation as opposed to anger and fear. Her second book, Our Aesthetic Categories: Zany, Cute, Interesting (2012, Harvard UP), argues for the contemporary centrality of three everyday, vernacular aesthetic categories, treating them with the same philosophical seriousness as others have treated the beautiful and sublime.
Madeleine Planeix-Crocker is Associate Curator at Lafayette Anticipations.
Madeleine is also co-director of the "Troubles, Dissidences et Esthétiques" Chair at the Beaux-Arts de Paris and a permanent member of the Scientific Research Council of the ESAD, Reims.
A graduate of Princeton University in cultural studies, Madeleine earned a Master's degree in Media, Art and Creation from HEC Paris and a Master's degree from the École des Hautes Études en Sciences Sociales (EHESS). There she led an arts-based research-action project with Women Safe non-profit, where she now facilitates a theater and creative writing workshop. Madeleine is currently a PhD candidate at the EHESS (CRAL), studying practices for commoning in contemporary performance.
She has been practicing dance and theater since childhood.