Warm Up Sessions: a training for the body and mind
Sunday 21 Oct 2018 from 2pm to 4pm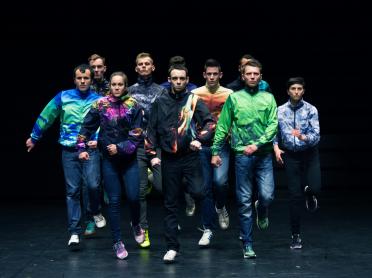 Warm Up Sessions : launch of the movement-based series with @(LA)HORDE
Warm Up Sessions : a training for the body and mind. From jumpstyle to ballet, from break dance to contemporary, practice then discuss the indispensable movements and gestures that anticipate a performance - the ultimate moment of sharing with an audience. Each Session will begin with a warm up led by the invited dancer or collective, and will be followed by a discussion on themes bridging
body movements and social realities : the performativity of the human condition, circulations and physical disruptions in a decorporalized era. With the Warm Up Sessions, we aspire to associate bodily effort with mindful effervescence.

Recommended to wear comfortable clothes to move in. Bring your own water bottle.

A series curated by Madeleine Planeix-Crocker.
Its field of action is directed toward exchange and questioning the codes of various artistic disciplines, namely in the realms of performance and contemporary art. As such, (LA)HORDE's repertoire is multiform and since 2011, has developed choreographic pieces, installations, films and performances.
LA)HORDE is composed of three artist-directors: Marine Brutti, Jonathan Debrouwer and Arthur Harel. A heterarchical structure, in which interrelation and cooperation between members is favoured akin to bottom-up structures.
Born and raised in Los Angeles, Madeleine Planeix-Crocker is associate curator at Lafayette Anticipations.
In 2018, she founded the "Warm Up Sessions", a cycle of public and participative meetings around training practices in dance and performance. In the spring of 2021, she proposes the "Dérives" series, which aims to contribute to the writing of new histories of the arts through dialogues co-constructed with contemporary artists. Her interests lie at the crossroads of research and curation of feminist, queer and intersectional performances.
Madeleine is also co-director of the Chair "Troubles, Dissidences and Aesthetics" at the Beaux Arts de Paris and a permanent member of the Scientific Research Council of the ESAD in Reims.
A graduate of Princeton University in cultural studies, Madeleine obtained a Master's degree in Media, Art and Creation from HEC Paris and a Master's degree from EHESS. There she carried out a research-creation project with the association Women Safe, where she now runs a theatre and creative writing workshop. Madeleine is currently doing a thesis at EHESS (CRAL) on contemporary communal performance in France.
She has practiced dance and theatre since childhood.
The lafayetteanticipations.com website uses cookies for audience measurement purposes.
By continuing your navigation on this site, you accept their use.