Dérives, Dorothée Munyaneza
Sunday 18 Sep 2022 from 2:30pm to 4pm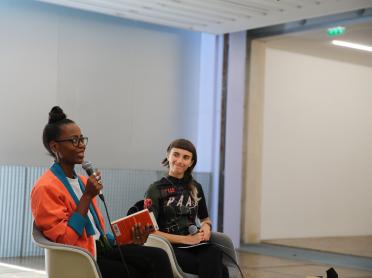 A conversation to explore the sources of Dorothée Munyaneza's work, with Madeleine Planeix-Crocker, associate curator.
Dorothée Munyaneza is a Rwandan and British singer, writer and choreographer. She studied music at the Jonas Foundation in London and social sciences in Canterbury, before moving to France.
She has collaborated with François Verret, Alain Buffard, Alain Mahé, Stéphanie Coudert, Ko Murobushi, Rachid Ouramdane, Maud Le Pladec, Jean-François Pauvros, Maya Mihindou, Ben Lamar Gay and Radouan Mriziga. In 2014, she created her first work, Samedi Détente, followed by Unwanted in 2017 and Mailles in 2020. Her work starts from reality to capture memory and bodies, both individual and collective, to speak out and to carry the voices of those who are silenced, to denounce the genocide of the Tutsis in Rwanda, violence against women, racial and colonialist domination, to make the silences heard and to show the scars of History. In 2020, she translated from English Hopelessly Devoted by Kae Tempest, published under the title Les inconditionnelles by L'Arche Éditeur. Associate artist at the Théâtre de la Ville (Paris) from 2018 to 2021, Dorothée Munyaneza is now Associate Artist at the Théâtre national de Chaillot and in residence at the Fondation Camargo from 2022 to 2024. 
Born and raised in Los Angeles, Madeleine Planeix-Crocker is associate curator at Lafayette Anticipations.
In 2018, she founded the "Warm Up Sessions", a cycle of public and participative meetings around training practices in dance and performance. In the spring of 2021, she proposes the "Dérives" series, which aims to contribute to the writing of new histories of the arts through dialogues co-constructed with contemporary artists. Her interests lie at the crossroads of research and curation of feminist, queer and intersectional performances.
Madeleine is also co-director of the Chair "Troubles, Dissidences and Aesthetics" at the Beaux Arts de Paris and a permanent member of the Scientific Research Council of the ESAD in Reims.
A graduate of Princeton University in cultural studies, Madeleine obtained a Master's degree in Media, Art and Creation from HEC Paris and a Master's degree from EHESS. There she carried out a research-creation project with the association Women Safe, where she now runs a theatre and creative writing workshop. Madeleine is currently doing a thesis at EHESS (CRAL) on contemporary communal performance in France.
She has practiced dance and theatre since childhood.
The lafayetteanticipations.com website uses cookies for audience measurement purposes.
By continuing your navigation on this site, you accept their use.