Warm Up Session X Echelle Humaine #2
Friday 24 Sep 2021 from 4pm to 5:20pm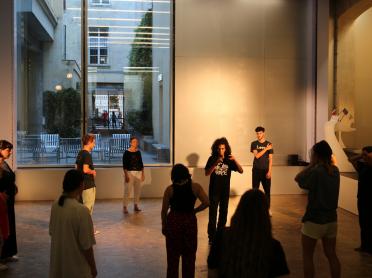 With Sandrine Lescourant aka Mufasa.
The body as spokesperson: this is what dancer and choreographer Sandrine Lescourant/Mufasa offers.
By using dance as a bulwark against violence, Mufasa invites us to make ourselves available - for ourselves and for others - by encouraging the resilience of our social links.

A cycle curated by Madeleine Planeix-Crocker.
Sportswear recommended, all levels.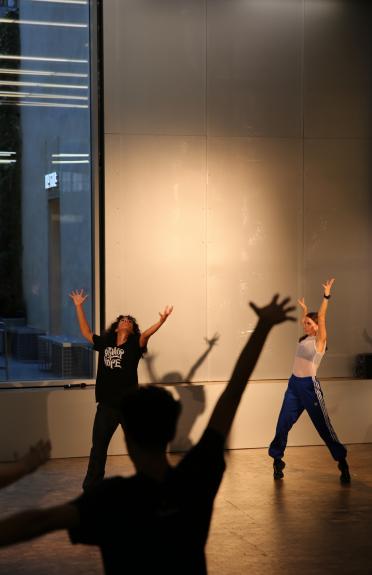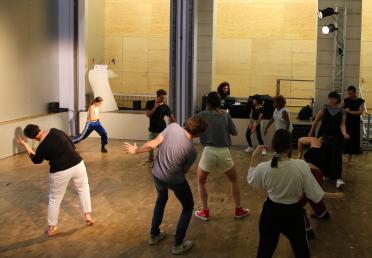 Sandrine Lescourant est connue sous le nom de MUFASA. Ce nom elle le doit à l'univers des battles de danse hip hop, un univers où elle a fait ses marques puis ses preuves auprès des pionniers de la culture HIP HOP.
Son parcours est enrichi d'un enseignement selon des principes très codifiés : danse classique, danse contemporaine, danse africaine traditionnelle; Sandrine n'en reste pas moins autodidacte dans l'âme, elle développe un style ancré dans les valeurs hip hop, une danse de résistance sur la scène underground, tout en collaborant au plateau avec plusieurs chorégraphes de la scène contemporaine.
Sandrine est aujourd'hui chorégraphe de la compagnie Kilaï. Sa démarche s'inscrit dans une recherche poussée du mouvement , explorant les liens sociaux et la représentation de ces derniers au travers du corps. C'est en puisant dans son expérience et en portant un regard plus large sur la société actuelle qu'elle propose des créations audacieuses. Elle porte la danse comme rempart à la violence
et ancre ses projets dans le réel ce qui permet à chaque élan artistique d'être mu par la nécessité de déplacer ou
questionner le regard du spectateur sur l'être sensible qu'il est. Son art se réinvente, il se joue des codes, il s'inspire de ce que nous avons d'intime. Les projets de transmission s'axent autour du décloisonnement des pratiques. Engagement physique d'une haute intensité, imaginaire singulier porté sur le sens et le sensible, le travail de la compagnie se veut être un mouvement pour plus de tolérance.
Madeleine Planeix-Crocker is Associate Curator at Lafayette Anticipations.
Madeleine is also co-director of the "Troubles, Dissidences et Esthétiques" Chair at the Beaux-Arts de Paris and a permanent member of the Scientific Research Council of the ESAD, Reims.
A graduate of Princeton University in cultural studies, Madeleine earned a Master's degree in Media, Art and Creation from HEC Paris and a Master's degree from the École des Hautes Études en Sciences Sociales (EHESS). There she led an arts-based research-action project with Women Safe non-profit, where she now facilitates a theater and creative writing workshop. Madeleine is currently a PhD candidate at the EHESS (CRAL), studying practices for commoning in contemporary performance.
She has been practicing dance and theater since childhood.