On the tip of the tongue
Thursday 25 Nov 2021 from 6pm to 7pm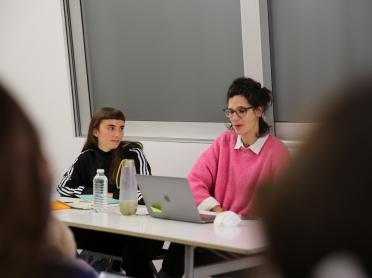 This conversation will look back at the book Zizanies (Paraguay, 2020) as a project: to get closer to women's voices - both sources of inspiration and testimony - and to listen to their resonances.
Evoking the fields of contemporary art as well as the writings of reconstruction, Clara Schulmann - author of the book - and Madeleine Planeix-Crocker - associate curator - will discuss these intersecting and life-filled perspectives.
Clara Schulmann est critique d'art.
Elle a dirigé différents ouvrages : "Jeux sérieux. Cinéma et art contemporain transforment l'essai", (HEAD/Mamco, Genève, 2015), "Palmanova" (Form(e)s, Paris, 2016), "Laura Mulvey, Au-delà du plaisir visuel. Féminisme, énigmes, cinéphilie" (Mimésis, Paris, 2017). Elle a contribué à plusieurs monographies: "Mike Kelley", Centre Georges Pompidou (2013), "Joachim Koester: Of Spirits and Empty Spaces", SMAK (2014), "Hélène Delprat. Les travaux et les jours" (Dilecta, 2017). Plusieurs articles critiques : « Rien n'est magique », exposition Marie Angeletti, castillo/corrales, Paris, 2014, « A Girl and a Tree. Time Flies like a Banana », in Next Spring, Wellington (2016), « Crooked », exposition Valérie Mréjen, Galerie Anne-Sarah Benichou (2016).
Elle est docteure en études cinématographiques. Sa thèse a été publiée en 2014 (Les Chercheurs d'or. Films d'artistes, Histoires de l'art, Presses du réel). Entre 2012 et 2018, elle a enseigné l'histoire et la théorie de l'art à l'école supérieure des beaux-arts de Bordeaux (Ebabx).
Elle est aujourd'hui en charge d'un séminaire de diplôme aux Beaux-Arts de Paris (Ensba).Ses échanges avec Katinka Bock ont donné lieu à plusieurs points de rencontre : aux Laboratoires d'Aubervilliers en 2015 et dans le cadre de Manifesta (Palerme, 2018). Des textes rendent compte de ces collaborations, notamment: « Squirrels to the nuts », in Zarba Lonsa, Laboratoires d'Aubervilliers (2015).
Born and raised in Los Angeles, Madeleine Planeix-Crocker is associate curator at Lafayette Anticipations.
In 2018, she founded the "Warm Up Sessions", a cycle of public and participative meetings around training practices in dance and performance. In the spring of 2021, she proposes the "Dérives" series, which aims to contribute to the writing of new histories of the arts through dialogues co-constructed with contemporary artists. Her interests lie at the crossroads of research and curation of feminist, queer and intersectional performances.
Madeleine is also co-director of the Chair "Troubles, Dissidences and Aesthetics" at the Beaux Arts de Paris and a permanent member of the Scientific Research Council of the ESAD in Reims.
A graduate of Princeton University in cultural studies, Madeleine obtained a Master's degree in Media, Art and Creation from HEC Paris and a Master's degree from EHESS. There she carried out a research-creation project with the association Women Safe, where she now runs a theatre and creative writing workshop. Madeleine is currently doing a thesis at EHESS (CRAL) on contemporary communal performance in France.
She has practiced dance and theatre since childhood.
The lafayetteanticipations.com website uses cookies for audience measurement purposes.
By continuing your navigation on this site, you accept their use.