Warm Up Session with Pol Pi
Saturday 24 Oct 2020 from 9:30am to 11am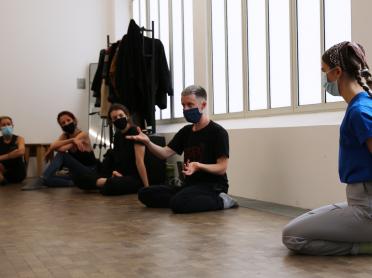 In this Warm Up Session, choreographer and dancer Pol Pi invites the participants to invest the personal and intimate dimension of that moment that we call a "warm up".

What animates these movements we have repeated so many times in our lives ? What memories, stories, places, smells, and landscapes travel through our flesh, bones, veins, organs, when put into movement ? The connections between the collective and the individual, the intimate and the political, have always been at the heart of Pol Pi practices and creations. And they are present, of course, during any warm up.

"I wish to share and expand the practices that were born during the creative process of my new piece daté.e.s. Currently in creation, this performance will be first presented on December 10 at the Centre national de la Danse, in partnership with the Rencontres Chorégraphiques Internationales de la Seine-Saint-Denis. It is a trio with two other dancers, stemming from different aesthetics and generations, in which we question our relationships to memory, to the concepts of time and the archive as forces that construct our identities while also restricting them."

--
The Warm Up Sessions stem from the desire to collectively discover, embody and question training techniques in performance. The series aims to situate the warm up as a vital step in the creation of performance pieces. Thus, training is understood as a starting point for choreographic, dramaturgical or performative productions, both a process of sharing and reflecting. Based upon inclusive invitations, the Sessions seek to deconstruct silos between movement and thought. The series offers a space to practice and discuss, open to all, and conceived in close partnership with guest artists. In this experimental terrain, audience members become active participants, giving birth to an ephemeral and recurring event.

Recommended to wear comfortable clothes to move in, open to all.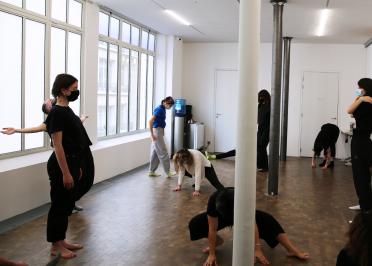 Pol Pi is a Brazilian transmasculine choreographer and dancer based in France since 2013.
He navigates around questions about memory, translation and notions of archive in dance, with fragility, intimacy and doubt as its home base. He graduated in classical music at the University of Campinas (Brazil) and followed the master's degree in choreography at the CCN of Montpellier. Before encountering contemporary dance, he studied butoh, worked as an actor, musical director and sound designer for theatre, dance and a short film, directed two comic operas and worked as a professional musician for over ten years. Between 2010 and 2013, based in São Paulo, he created his first choreographic pieces, presented in several cities and festivals in Brazil, such as SESC Pompeia, Semanas de Dança / Centro Cultural São Paulo and Mostra Rumos Itaú Cultural. He directed five editions of the project Free to Fall São Paulo and danced for Marcelo Bucoff, Clarissa Sacchelli, Holly Cavrell, Keyzettaecia and Juliana Moraes.
Since his arrival in France, he has performed for Eszter Salamon, Latifa Laâbissi/Nadia Lauro, Pauline Simon, Aude Lachaise, Anna Anderegg and Anne Collod. In 2016, he founded the company NO DRAMA and since then has created the solos ECCE (H)OMO (2017), ALEXANDRE (2018), Me Too, Galatée (2018) and Là (2019) and the trio daté-e-s (2020), which have been presented in various cities in France, as well as in Berlin, Essen, Chicago, Zagreb, Sofia and Barcelona among others. Pol Pi is a member of the Brazilian collective Danças em Transições, with whom he made the film Tangly (2021). He is currently preparing, in collaboration with the Berlin Solistenensemble Kaleidoskop, a new creation that will be presented in June 2022 at the Montpellier Dance Festival.
Madeleine Planeix-Crocker is Associate Curator at Lafayette Anticipations.
Madeleine is also co-director of the "Troubles, Dissidences et Esthétiques" Chair at the Beaux-Arts de Paris and a permanent member of the Scientific Research Council of the ESAD, Reims.
A graduate of Princeton University in cultural studies, Madeleine earned a Master's degree in Media, Art and Creation from HEC Paris and a Master's degree from the École des Hautes Études en Sciences Sociales (EHESS). There she led an arts-based research-action project with Women Safe non-profit, where she now facilitates a theater and creative writing workshop. Madeleine is currently a PhD candidate at the EHESS (CRAL), studying practices for commoning in contemporary performance.
She has been practicing dance and theater since childhood.