Pol Pi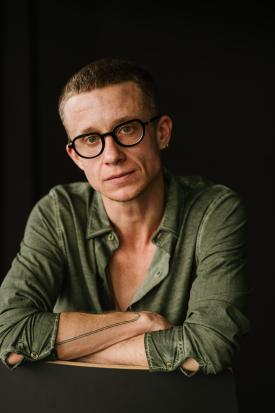 Pol Pi is a Brazilian transmasculine choreographer and dancer based in France since 2013.
He navigates around questions about memory, translation and notions of archive in dance, with fragility, intimacy and doubt as its home base. He graduated in classical music at the University of Campinas (Brazil) and followed the master's degree in choreography at the CCN of Montpellier. Before encountering contemporary dance, he studied butoh, worked as an actor, musical director and sound designer for theatre, dance and a short film, directed two comic operas and worked as a professional musician for over ten years. Between 2010 and 2013, based in São Paulo, he created his first choreographic pieces, presented in several cities and festivals in Brazil, such as SESC Pompeia, Semanas de Dança / Centro Cultural São Paulo and Mostra Rumos Itaú Cultural. He directed five editions of the project Free to Fall São Paulo and danced for Marcelo Bucoff, Clarissa Sacchelli, Holly Cavrell, Keyzettaecia and Juliana Moraes.
Since his arrival in France, he has performed for Eszter Salamon, Latifa Laâbissi/Nadia Lauro, Pauline Simon, Aude Lachaise, Anna Anderegg and Anne Collod. In 2016, he founded the company NO DRAMA and since then has created the solos ECCE (H)OMO (2017), ALEXANDRE (2018), Me Too, Galatée (2018) and Là (2019) and the trio daté-e-s (2020), which have been presented in various cities in France, as well as in Berlin, Essen, Chicago, Zagreb, Sofia and Barcelona among others. Pol Pi is a member of the Brazilian collective Danças em Transições, with whom he made the film Tangly (2021). He is currently preparing, in collaboration with the Berlin Solistenensemble Kaleidoskop, a new creation that will be presented in June 2022 at the Montpellier Dance Festival.