Warm Up Session x Echelle Humaine #2
Sunday 27 Sep 2020 from 9:30am to 11am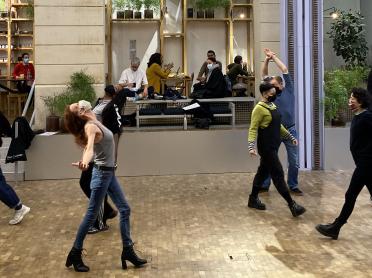 Distorted Rap Body/ Chopped And Screwed Body

During this Warm Up Session, dancer and choreographer Cherish Menzo will share her ongoing process of unpacking the complexities of interwoven identities, as performed in her pieces. Distortion and saturation of movement, text, images and sounds will be drawn upon as tools to create new possibilities and to interpret collectively this personal and historical exploration.

"I am interested in understanding and applying techniques that have been used in music especially those used in hip hop and electronic music. How to apply tools that are often used in electronic music such as stop-time, skipping beats, remix, scratch, climax, overlap, slowing down tempo and lowering the pitch on the moving body.
Distorted Rap Body/ Chopped And Screwed Body is a research and experiment in which I apply the Chopped and Screwed technique (also called screwed and chopped or slowed and throwed).
Chopped and Screwed is a remixing technique originally used in hip hop music. The technique was developed in the Houston hip hop scene in the early 1990s by DJ Screw. The screwed technique is accomplished by slowing the tempo down to 60 and 70 quarter-note beats per minute and applying techniques such as skipping beats, record scratching, stop-time, and affecting portions of the original composition to create a "chopped-up" version of the song.
To apply this technique which is originally used in music and lyrics we are exploring to bring time distortion and over articulation to the body. How does the relationship between the mouth, voice, sound, muscles, tissues re- inform and redefine the performing body and can propose new narrations, spaces and body-forms.
This Warm Up Session will be the first attempt to explore and communicate this research with others. I'm looking forward to how this exploration will resonate and be interpreted differently for each individual and at the same time examining how the tools that we use can create a common universe and togetherness. A Distorted Rap Body Choir." Cherish Menzo

-
The Warm Up Sessions stem from the desire to collectively discover, embody and question training techniques in performance. The series aims to situate the warm up as a vital step in the creation of performance pieces. Thus, training is understood as a starting point for choreographic, dramaturgical or performative productions, both a process of sharing and reflecting. Based upon inclusive invitations, the Sessions seek to deconstruct silos between movement and thought. The series offers a space to practice and discuss, open to all, and conceived in close partnership with guest artists. In this experimental terrain, audience members become active participants, giving birth to an ephemeral and recurring event.

A series curated by Madeleine Planeix-Crocker.

Recommended to wear comfortable clothes to move in, open to all.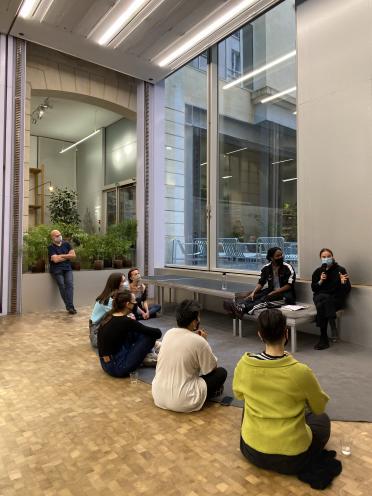 Cherish Menzo est une danseuse et interprète diplômée de la Hogeschool voor de Kunsten à Amsterdam.
Après avoir obtenu son diplôme, elle a collaboré avec plusieurs chorégraphes tel.le.s que Eszter Salamon, Akram Khan, Leo Lerus, Hanzel Nezza, Olivier Dubois, Lisbeth Gruwez, Jan Martens et Nicole Beutler. Outre son travail de danseuse et d'interprète, elle a créé, en 2016, le spectacle EFES en collaboration avec Nicole Geertruida. Depuis 2018, Cherish Menzo interprète le solo Sorry But I Feel Slightly Disidentified... de Benjamin Kahn, un portrait qui vise à déconstruire les stéréotypes. Cette étroite collaboration a été initiée en 2017 et a été rapidement suivi par LIVE, un mélange hybride de performance, de danse et de concert pop/rock, réalisé avec le musicien Müşfik Can Müftüoğlu.
Madeleine Planeix-Crocker is Associate Curator at Lafayette Anticipations.
Madeleine is also co-director of the "Troubles, Dissidences et Esthétiques" Chair at the Beaux-Arts de Paris and a permanent member of the Scientific Research Council of the ESAD, Reims.
A graduate of Princeton University in cultural studies, Madeleine earned a Master's degree in Media, Art and Creation from HEC Paris and a Master's degree from the École des Hautes Études en Sciences Sociales (EHESS). There she led an arts-based research-action project with Women Safe non-profit, where she now facilitates a theater and creative writing workshop. Madeleine is currently a PhD candidate at the EHESS (CRAL), studying practices for commoning in contemporary performance.
She has been practicing dance and theater since childhood.