Warm Up Session La Ribot
Sunday 03 Nov 2019 from 3pm to 4:30pm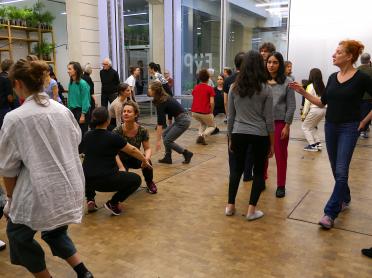 This Warm Up Session is related to the La Ribot Portrait presented by the Festival d'Automne à Paris.
The repertoire from the Spanish performance artist Maria Ribot known as La Ribot is examined as well as the multiple training techniques applied to her body in action and in creation.

Recommended to wear comfortable clothes to move in, open to all.

Warm Up Sessions : a training for the body and mind. From jumpstyle to ballet, from break dance to contemporary, practice then discuss the indispensable movements and gestures that anticipate a performance - the ultimate moment of sharing with an audience. Each Session will begin with a warm up led by the invited dancer or collective, and will be followed by a discussion on themes bridging body movements and social realities : the performativity of the human condition, circulations and physical disruptions in a decorporalized era. With the Warm Up Sessions, we aspire to associate bodily effort with mindful effervescence.

A series curated by Madeleine Planeix-Crocker.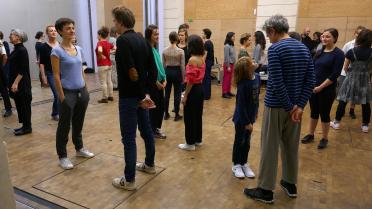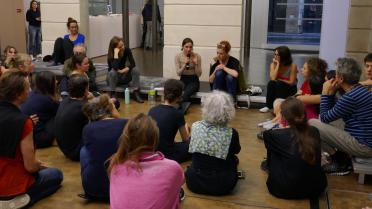 Figure majeure de la danse plasticienne, aussi rigoureuse qu'extravagante, Maria Ribot dite La Ribot a développé une œuvre en rhizome qui doit sa radicalité à sa façon de prendre l'art à sa racine, là où le corps et l'idée s'éprouvent en toute liberté. Son œuvre performative et visuelle, au croisement de la performance, de la vidéo et de l'installation live, fonctionne de fait par dérives et déviations, suivant une trajectoire vagabonde dont les formes résistent à la définition.
Enfant de la Movida espagnole, La Ribot vit comme elle bouge, en évitant l'inertie. Partie de son Espagne natale à la fin des années 1990 au motif qu'elle y voyait la danse stagner, elle s'est installée à Londres puis à Genève, et parcourt depuis le monde entier. Sa façon d'être toujours en mouvement se traduit dans la mise en œuvre d'un vocabulaire nerveux et saccadé, toujours exécuté avec précision, qui rythme sa critique du monde contemporain. Du geste absurde au concept fulgurant, son œuvre fait ainsi bouger les lignes pour mieux mobiliser la pensée, prenant pour seul principe de ne jamais rien tenir pour figé. Influencée par l'histoire de la danse, du théâtre et de la performance, autant que par les arts visuels, elle a été parmi les premières chorégraphes à investir aussi franchement les musées et les galeries. En occupant ces lieux qu'elle aborde comme des espaces de pure présentation, elle procède au complet renversement des normes de la représentation scénique. La mise à l'horizontale du spectacle lui permet en ce sens de se défaire des hiérarchies qui organisent ordinairement la relation de l'interprète au public, mais aussi de mettre sur un pied d'égalité tous les éléments plastiques et dramaturgiques qui organisent ses actions. Dans ses pièces, en effet, corps, images, sons, textes et objets prennent place dans un espace indifférencié de manière à mettre en défaut les attentes et les grilles de lecture du spectateur.
Madeleine Planeix-Crocker is Associate Curator at Lafayette Anticipations.
Madeleine is also co-director of the "Troubles, Dissidences et Esthétiques" Chair at the Beaux-Arts de Paris and a permanent member of the Scientific Research Council of the ESAD, Reims.
A graduate of Princeton University in cultural studies, Madeleine earned a Master's degree in Media, Art and Creation from HEC Paris and a Master's degree from the École des Hautes Études en Sciences Sociales (EHESS). There she led an arts-based research-action project with Women Safe non-profit, where she now facilitates a theater and creative writing workshop. Madeleine is currently a PhD candidate at the EHESS (CRAL), studying practices for commoning in contemporary performance.
She has been practicing dance and theater since childhood.