Warm Up Session with Phia Ménard
Monday 09 May 2022 from 6:30pm to 8pm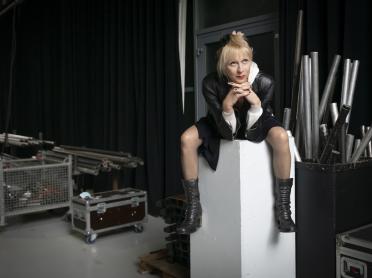 A Warm Up Session to discover the gestures of society and to get to grips with bodies, their limits, their pains as well as their fears.
"To undo or to battle it out? This is the daily question that guides me to the studio.
Unravelling society's gestures is a drug, like pulling on a jumper's thread. Unravelling is a battle with the body, its limits, its pains as well as its fears. I oscillate then, demanding not to stray from the subject: What have we done with empathy?"
Phia Ménard

This invitation to movement is followed by a discussion with Madeleine Planeix-Crocker, curator of the Warm Up Sessions cycle.

-
Warm Up Sessions are based on a desire to discover, embody and collectively analyse training techniques in performance. Warm Up Sessions aim to position the warm-up as an essential step in the creation of a performance. Thus, training is understood as a starting point for choreographic, theatrical and performance production, a process of both sharing and reflection. Through inclusive invitations, Warm Up Sessions seek to deconstruct the silos erected between movement and thought. The cycle offers a space for practice and a platform for discussion for all, developed in consultation with the guests. In this field of experimentation, audiences become active participants, giving rise to an ephemeral and recurring event.
Phia Ménard is the artistic director and performer of the Compagnie Non Nova, which she founded in Nantes in 1998 with the desire to take a different look at juggling and its scenic and dramaturgical treatment.
"Non nova, sednove" (We don't invent anything, we see it differently) is a founding precept. In 2008, she initiated a research process entitled "I.C.E" for "Injonglabilité Complémentaire des Eléments" (Complementary Injunctibility of Elements), which consists of a creative, intellectual and imaginative approach to the notion of transformation, erosion or sublimation of natural materials such as ice, water, wind... and their interactions with human, physical or psychic behaviour. Several cycles have been initiated since 2008: Les Pièces de Glace: "P.P.P. ", "ICE MAN" and "Black Monodie"; The Wind Pieces: "L'après-midi d'un foehn version 1", "L'après-midi d'un foehn", "VORTEX" and "Les Os Noirs"; The Water and Steam Pieces: "Belle d'Hier" and "Saison Sèche"; The Sublimation Pieces: "No Way" and "La Trilogie des Contes Immoraux(pour Europe)". Her shows have been performed in France and around the world in more than 50 countries. In January 2014, she was promoted to the rank of Chevalier de l'Ordre des Arts et des Lettres.
Born and raised in Los Angeles, Madeleine Planeix-Crocker is associate curator at Lafayette Anticipations.
In 2018, she founded the "Warm Up Sessions", a cycle of public and participative meetings around training practices in dance and performance. In the spring of 2021, she proposes the "Dérives" series, which aims to contribute to the writing of new histories of the arts through dialogues co-constructed with contemporary artists. Her interests lie at the crossroads of research and curation of feminist, queer and intersectional performances.
Madeleine is also co-director of the Chair "Troubles, Dissidences and Aesthetics" at the Beaux Arts de Paris and a permanent member of the Scientific Research Council of the ESAD in Reims.
A graduate of Princeton University in cultural studies, Madeleine obtained a Master's degree in Media, Art and Creation from HEC Paris and a Master's degree from EHESS. There she carried out a research-creation project with the association Women Safe, where she now runs a theatre and creative writing workshop. Madeleine is currently doing a thesis at EHESS (CRAL) on contemporary communal performance in France.
She has practiced dance and theatre since childhood.
The lafayetteanticipations.com website uses cookies for audience measurement purposes.
By continuing your navigation on this site, you accept their use.