Warm Up Session Katerina Andreou
Sunday 21 Apr 2019 from 2pm to 3:30pm
Free access by reservation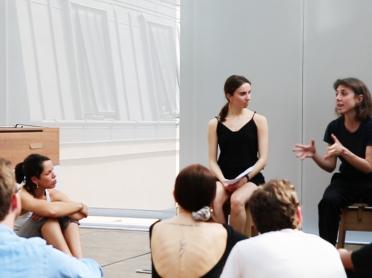 An encounter through movement and words with Greek choreographer Katerina Andreou !
Discussion on her rigorous training practice, at the origin of her explosive pieces, and on her most recent piece BSTRD that prolongs her examination of identity quests and the need to belong, greatly inspired by house music and dance stemming from New York and Chicago in the 1980s.

Recommended to wear comfortable clothes to move in, open to all.

Warm Up Sessions : A training for the body and mind. From jumpstyle to ballet, from break dance to contemporary, practice then discuss the indispensable movements and gestures that anticipate a performance - the ultimate moment of sharing with an audience. Each Session will begin with a warm up led by the invited dancer or collective, and will be followed by a discussion on themes bridging body movements and social realities : the performativity of the human condition, circulations and physical disruptions in a decorporalized era. With the Warm Up Sessions, we aspire to associate bodily effort with mindful effervescence.

A series curated by Madeleine Planeix-Crocker.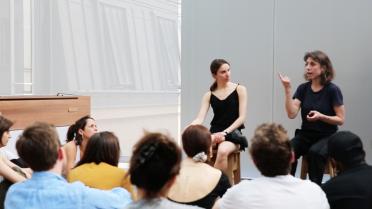 Katerina Andreou est une danseuse et chorégraphe grecque diplômée de l'Ecole supérieure de danse d'Athènes. Elle a intégré le master en création chorégraphique du Centre national de danse contemporaine (CNDC) à Angers, dirigé par Emmanuelle Huynh.
Katerina Andreou a collaboré avec les chorégraphes DD Dorvillier, Emmanuelle Huynh, Lenio Kaklea, Ana Rita Teodoro ou Dinis Machado, mais aussi avec le plasticien Jocelyn Cottencin. Sa pièce "A Kind of Fierce" remporte le prix Jardin d'Europe en 2016 à Vienne dans la cadre du festival ImPulsTanz. 
Madeleine Planeix-Crocker is Associate Curator at Lafayette Anticipations.
Madeleine is also co-director of the "Troubles, Dissidences et Esthétiques" Chair at the Beaux-Arts de Paris and a permanent member of the Scientific Research Council of the ESAD, Reims.
A graduate of Princeton University in cultural studies, Madeleine earned a Master's degree in Media, Art and Creation from HEC Paris and a Master's degree from the École des Hautes Études en Sciences Sociales (EHESS). There she led an arts-based research-action project with Women Safe non-profit, where she now facilitates a theater and creative writing workshop. Madeleine is currently a PhD candidate at the EHESS (CRAL), studying practices for commoning in contemporary performance.
She has been practicing dance and theater since childhood.