Mindy Seu on the Cyberfeminism Index
Monday 20 Feb 2023 from 7pm to 8:30pm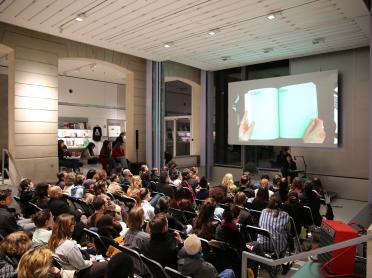 A conversation exploring the "Cyberfeminism Index", which documents instances of techno-critical activism that propose the internet as an intimately relational and radical space.
Founded and edited by designer, professor, and researcher Mindy Seu, "Cyberfeminism Index "documents 700 instances of radical techno-critical activism, feminist manifestos, hackerspaces, hardware, wetware education and net art from 1991 to 2020. By gathering and sharing excluded tech histories, the project reclaims cyberspace as a platform for criticality, mutation and entanglement.

As an online database, and a book, "Cyberfeminism Index" documents the perspectives of hackers, scholars, artists, and activists of diverse identities to consider how humans might continue to reconstruct themselves with and through technologies.

In conversation with Madeleine Planeix-Crocker, associate curator.
Mindy Seu is a designer and technologist based in New York City.
Her expanded practice involves archival projects, techno-critical writing, performative lectures, design commissions, and close collaborations. Her latest writing surveys historical precursors of the metaverse and reveals the materiality of the internet. Mindy's ongoing Cyberfeminism Index, which gathers three decades of online activism and net art, was commissioned by Rhizome and presented at the New Museum in its online form, and its print form is a recipient of a Graham Foundation Grant.
She has lectured internationally at cultural institutions (Barbican Centre, New Museum), academic institutions (Columbia University, Central Saint Martins), and mainstream platforms (Pornhub, SSENSE, Google), among many others, and has been a resident at MacDowell, Sitterwerk Foundation, Pioneer Works, and Internet Archive. Mindy holds an M.Des. from Harvard's Graduate School of Design and a B.A. in Design Media Arts from the University of California, Los Angeles.
She is currently Assistant Professor at Rutgers Mason Gross School of the Arts and Critic at Yale School of Art.
Madeleine Planeix-Crocker is Associate Curator at Lafayette Anticipations.
Madeleine is also co-director of the "Troubles, Dissidences et Esthétiques" Chair at the Beaux-Arts de Paris and a permanent member of the Scientific Research Council of the ESAD, Reims.
A graduate of Princeton University in cultural studies, Madeleine earned a Master's degree in Media, Art and Creation from HEC Paris and a Master's degree from the École des Hautes Études en Sciences Sociales (EHESS). There she led an arts-based research-action project with Women Safe non-profit, where she now facilitates a theater and creative writing workshop. Madeleine is currently a PhD candidate at the EHESS (CRAL), studying practices for commoning in contemporary performance.
She has been practicing dance and theater since childhood.