Passions-relations with Mona Varichon
Saturday 23 Apr 2022 from 3:30pm to 5pm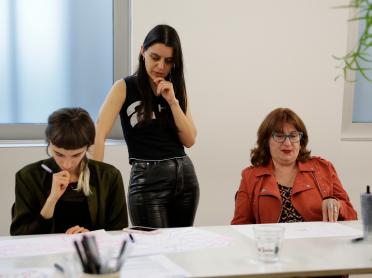 Following a "Dérives" conversation with the artist, Mona Varichon proposes a collective workshop.
In resonance with the work The History of the World by Jeremy Deller, we will in turn compose "flow diagram" cards from personal passions.

Associations of ideas, affects and desires will surface, overflowing with both filiations and fictions.
Mona Varichon is an artist and a translator.
She wonders where and for whom artworks live, if art can exist online or in a community before it exists in a museum, and if that is where its most discerning viewers are. With the material and tools of everyday life, such as advertising, social networks or the words of those closest to her, her photos and videos draw a chronicle of the present time that seeks to pay homage to it, while revealing the sociological realities that drive it and make it worse.
Her work has recently been presented at the Capc musée d'art contemporain, Bordeaux; at the Festival Les Urbaines, Lausanne; at the Festival des Chichas de la Pensée at the Magasins Généraux, Pantin; at The Vanity gallery, Los Angeles and Balice Hertling, Paris; online at Renaissance TV, Chicago, Jeu de Paume Lab, Paris and Cinema 3, ICA London; at the experimental cinema l'Etna, Montreuil; at the Redcat Theatre and Echo Park Film Center, Los Angeles; at Fiesta Hall in Plummer Park and the Egyptian Theatre, Hollywood.
Madeleine Planeix-Crocker is Associate Curator at Lafayette Anticipations.
Madeleine is also co-director of the "Troubles, Dissidences et Esthétiques" Chair at the Beaux-Arts de Paris and a permanent member of the Scientific Research Council of the ESAD, Reims.
A graduate of Princeton University in cultural studies, Madeleine earned a Master's degree in Media, Art and Creation from HEC Paris and a Master's degree from the École des Hautes Études en Sciences Sociales (EHESS). There she led an arts-based research-action project with Women Safe non-profit, where she now facilitates a theater and creative writing workshop. Madeleine is currently a PhD candidate at the EHESS (CRAL), studying practices for commoning in contemporary performance.
She has been practicing dance and theater since childhood.