The battle of the intimate
Monday 27 Nov 2023 from 7pm to 8:30pm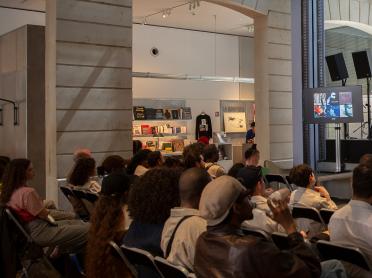 A discussion with feminist philosopher Camille Froidevaux-Metterie to reflect the exhibition Study For No by artist Issy Wood.
The conversation will focus about embodied experiences, resistance and desire, intimate and political reappropriation.
Camille Froidevaux-Metterie is a philosopher.
Her research addresses bodily themes (puberty, appearance, maternity, breasts, menopause, pleasure and sexuality, sexist and sexual violence) within the framework of phenomenological feminism that thinks women's bodies in the context of alienation and emancipation. She is the author of several works, including La révolution du féminin (2015, Folio 2020), Le corps des femmes. La bataille de l'intime (2018, Points 2021), Seins. En quête d'une libération (2020, Points 2022), Un corps à soi (Seuil 2021) et Un si gros ventre. Expériences vécues du corps enceint (2023), as well as her first novel, Pleine et douce (Sabine Wespieser Éditeur, 2023).
Madeleine Planeix-Crocker is Associate Curator at Lafayette Anticipations.
Madeleine is also co-director of the "Troubles, Dissidences et Esthétiques" Chair at the Beaux-Arts de Paris and a permanent member of the Scientific Research Council of the ESAD, Reims.
A graduate of Princeton University in cultural studies, Madeleine earned a Master's degree in Media, Art and Creation from HEC Paris and a Master's degree from the École des Hautes Études en Sciences Sociales (EHESS). There she led an arts-based research-action project with Women Safe non-profit, where she now facilitates a theater and creative writing workshop. Madeleine is currently a PhD candidate at the EHESS (CRAL), studying practices for commoning in contemporary performance.
She has been practicing dance and theater since childhood.