Le sang ! / Blood! a talk with Tarek Lakhrissi
Sunday 05 Jun 2022 from 5pm to 6pm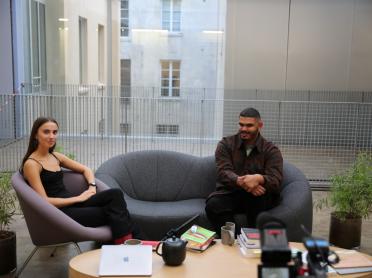 On the occasion of the Paris Ass Book Fair and the publication of Tarek Lakhrissi's first collection of poems "Le sang !/Blood!" which gathers texts written between 2016 and 2022, the artist discusses with Matthieu Bonicel, head of the Foundation's publishing department and Madeleine Planeix-Crocker, associate curator.
The book is presented as a mirror in two languages, English and French, and introduces us to the themes that structure the artist's work, such as combat, the body, language and the queer minority experience.

It will be entirely designed in Lafayette Anticipations' publishing workshop, located on the ground floor of the Foundation for the duration of the fair.
Tarek Lakhrissi is a French artist and poet with a background in literature. He works across  installation, performance, film, text and sculpture, engaging with political and social issues  around transformative narratives within language, magic, weirdness, codes and love.
His background in literature draws influence from feminist and queer writers, such as Elsa  Dorlin, Jean Genet, Monique Wittig and José Esteban Muñoz, providing his work with a  romantic atmosphere. Each project Lakhrissi initiates derives from text, poetry and language,  which are his primary obsessions, before translating ideas from these mediums into the visual  arts. His profound use of language engages with performativity and reflects on poetic, erotic  and nostalgic queer futures. 
He currently teaches at CCC Research Master Program of the Visual Arts Department at HEAD (Geneva School of Art and Design). Lakhrissi has been exhibited internationally at galleries and institutions including: Museum of Contemporary Art; Biennale of Sydney (2020), Wiels; Brussels (2020), Palais de Tokyo; Paris (2020), Palazzo Re Rebaudengo/Sandretto, Guarene/Torino (2020), Quadriennale di Roma; Palazzo delle Esposizioni, Rome (2020), High Art; Paris (2020), Hayward Gallery; London (2019), Auto Italia South East; London (2019), Grand Palais, FIAC; Paris (2019), Fondation Lafayette Anticipations; Paris (2019), L'Espace Arlaud; Lausanne (2019), Zabriskie; Geneva (2019), Fondation Gulbenkian; Paris (2018), CRAC Alsace; Altkirch, France (2019), Kim?; Riga (2018), Artexte; Montreal (2017), Gaité Lyrique; Paris (2017), SMC/CAC; Vilnius (2017). He is represented by Vitrine Gallery (London - Basel) and is shortlisted for the 22nd Fondation Pernod Ricard Prize (2020-2021).
Madeleine Planeix-Crocker is Associate Curator at Lafayette Anticipations.
Madeleine is also co-director of the "Troubles, Dissidences et Esthétiques" Chair at the Beaux-Arts de Paris and a permanent member of the Scientific Research Council of the ESAD, Reims.
A graduate of Princeton University in cultural studies, Madeleine earned a Master's degree in Media, Art and Creation from HEC Paris and a Master's degree from the École des Hautes Études en Sciences Sociales (EHESS). There she led an arts-based research-action project with Women Safe non-profit, where she now facilitates a theater and creative writing workshop. Madeleine is currently a PhD candidate at the EHESS (CRAL), studying practices for commoning in contemporary performance.
She has been practicing dance and theater since childhood.