Dérives with Tai Shani
Sunday 24 Jul 2022 from 4pm to 5:30pm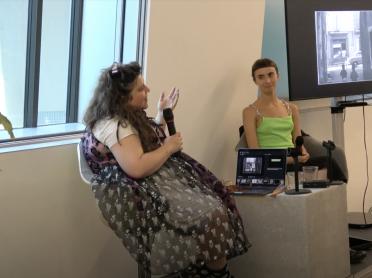 A gathering at the heart of the sources of the artist co-winner of the Turner Prize (2019) whose works mix dreamed narratives with uninhibited feminist ecologies.

In conversation with Madeleine Planeix-Crocker.
Tai Shani's multidisciplinary practice, comprising performance, film, photography and installation, revolves around experimental narrative texts.
Shani creates violent, erotic and fantastical images told in a dense, floral language which propose re-imagines feminine otherness as a perfect totality, set in worlds complete with cosmologies, myth and histories that negate patriarchal narratives. These alternate between familiar stylistic tropes and structures and theoretical prose in order to explore the construction of subjectivity, excess and the affects of the epic as the ground for a post-patriarchal realism. 
Tai Shani's project DC Productions (2014-2019) proposed an allegorical city of women, it was an experimental and expanded adaptation of Christine de Pizan's 1405 pioneering feminist book, The Book of the City of Ladies within which Christine builds an city for notable women drawn from a medieval conception of history, where fact, fiction and myth are blurred. This non-hierarchical approach also determined the construction of the characters and narrative of DC. The collected texts were published in 2019 as 'Our Fatal Magic'.
She is the joint 2019 Turner Prize winner together with Lawrence Abu Hamdan, Helen Cammock and Oscar Murillo. In 2019 Tai was a Max Mara prize nominee. Her work has been shown at Kunstnernes Hus, Oslo (2021), Manchester International Festival (2021); Turner Contemporary, UK (2019); Grazer Kunst Verein, Austria (2019); Nottingham Contemporary, U.K. (2019); Fondazione Sandretto Re Rebaudengo, Italy (2019); Glasgow International, UK (2018); Tenstakonsthall, Sweden (2017), Wysing Arts Centre, UK (2017); Serpentine Galleries, London (2016); Tate, London (2016); and Irish Museum of Modern Art, Dublin (2016).

Madeleine Planeix-Crocker is Associate Curator at Lafayette Anticipations.
Madeleine is also co-director of the "Troubles, Dissidences et Esthétiques" Chair at the Beaux-Arts de Paris and a permanent member of the Scientific Research Council of the ESAD, Reims.
A graduate of Princeton University in cultural studies, Madeleine earned a Master's degree in Media, Art and Creation from HEC Paris and a Master's degree from the École des Hautes Études en Sciences Sociales (EHESS). There she led an arts-based research-action project with Women Safe non-profit, where she now facilitates a theater and creative writing workshop. Madeleine is currently a PhD candidate at the EHESS (CRAL), studying practices for commoning in contemporary performance.
She has been practicing dance and theater since childhood.