Saâdane Afif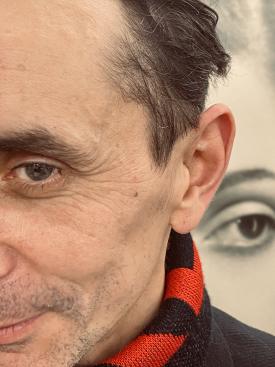 Born in 1970 at Vendôme (France).
Lives and works in Berlin (Germany).
Saâdane Afif is a French artist.
He was trained at the Ecole des Beaux-Arts in Bourges. In 2009, he received the Marcel Duchamp Prize where he presented the work Vice de forme: In search of melodies. In 2015, he received the Prix Meurice for the project Das Ende der Welt. His works - performances, texts, sculptures and posters - show an important place for musicality. Art becomes words, music and movement, moving from one art form to another through the intervention of his collaborators.
He has recently been artistic director of the Bergen Assembly 2022 triennial in Bergen, Norway, entitled Yasmine and the Seven Faces of the Heptahedron (September-November 2022). His latest solo exhibitions have been presented at the Michèle Didier Gallery, Paris (2022): The Fountain Archives (Index), at the Antoni Tàpies Foundation, Barcelona (2021): The Fountain Archives and Beyond..., at the Kunsthalle Vienna (2018): This Is Ornamental, and at Wiels, Brussels (2018): Paroles. His work has also been presented at Documenta 12, Kassel (2007) and at the 56th Venice Biennale.