Brume
Materials:
Aluminium, Reflective Adhesive
Collection:
Lafayette anticipations - Fonds de dotation Famille Moulin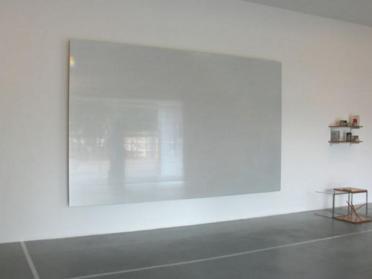 Drawn from the eponymous series, Brume is an abstract monochrome made from aluminium covered with holographic adhesive. This commonplace material, usually used for road signs, gives the work its iridescent character by sensitizing its surface to the play of light and reflections while opening it up to its environment. Brume reflects and records in an ephemeral way the movements of the visitors of which it delivers a blurred and misty vision in a distant echo of the nineteenth century landscape paintings from which the work borrows its format and its title. The artist's use of emptiness here also recalls the White Paintings of the American painter Robert Rauschenberg (1925–2008). Through a process of appropriation characteristic of Saâdane Afif's practice, the road sign is stripped of all signs, giving way to a misty landscape in perpetual transformation that changes according to the viewer.

Text written by Suzana Danilovic as part of the partnership between the École du Louvre and Lafayette Anticipations – Fonds de dotation Famille Moulin.
Exhibitions
Perpetual Battle
BAIBAKOV art projects, Moscou (Russie)
from 25 May to 25 Jul 2010
Antidote 4
La Galerie des Galeries, Paris (France)
from 09 Oct to 06 Dec 2008
Learn to Read
Tate Modern, Londres (Angleterre)
from 19 Jun to 20 Sep 2007