Pop (Everyday)
Materials:
Holographic paper, Self-adhesive letters
Dimensions:
Dimensions variables
Collection:
Lafayette anticipations - Fonds de dotation Famille Moulin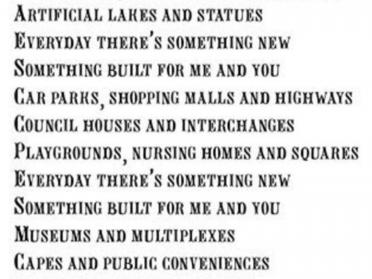 Pop (Everyday)
reflects
Saâdane Afif
's interest in the passage of time. The text composed by Lili Reynaud-Dewar was displayed on a wall as part of the exhibition
Melancholic Beat
at the Folkwang Museum in Essen (2004) alongside the work
Everyday
. The latter consisted of a hanging into which a copy of the regional daily newspaper
Neue Ruhr Zeitung
was placed each day. For
Saâdane Afif
, the idea was to imbue a new transitory temporality to the work of art—traditionally timeless, it was here updated daily. The text on the wall provides a commentary on the work. Inspired by
Everyday
, it was created according to a specific protocol at the request of
Saâdane Afif
. It was on the occasion of this exhibition that the texts resulting from his creative collaborations became an essential ingredient in his practice.
Text written by Claire Tallon as part of the partnership between the École du Louvre and Lafayette Anticipations – Fonds de dotation Famille Moulin.
Exhibition
Antidote 2
La Galerie des Galeries, Paris (France)
from 27 Oct to 09 Dec 2006