Laocoon (version 2)
Medium:
Capitoline Antinous hollow resin reproduction, stainless steel
Dimensions:
Dimensions variables
Collection:
Fonds de dotation Famille Moulin - Don de Ginette Moulin et Guillaume Houzé, 2013
Courtesy:
Courtesy of the artist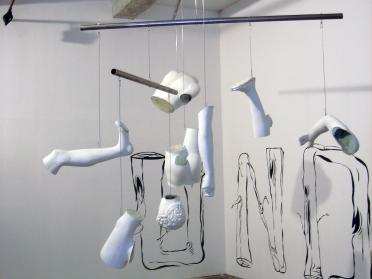 According to
Saâdane Afif
,
Laocoon
"
is a mobile made from an ancient sculpture cut into pieces. The title refers to the pain to which the famous group has often been associated. The form, a fragmented body, bursting into the exhibition space, can be read as an allusion to the humanbomber, the modern quintessence of pain and its expression. But there are other hypotheses to make. The use of an ancient plaster emphasizes that humanity is turned towards an ideal. This ideal evolves according to the times, but Antiquity remains a stable and almost universal landmark. It is also a place of unity and harmony as opposed to the bursting of modern thought. I use it here as a metaphor and not as a regret. It is this aspiration of man to experience the feeling of the sublime that I oppose destruction
". Since 2004,
Saâdane Afif
invites artists and writers to write texts inspired by his works, thus constituting a fundamental material for his artistic practice. On the occasion of the exhibition
One Million BPM
at the art center Cimaise and Portique, Albi (2005), the artist Mick Peter is asking for a song interacting with
Laocoon (version 1)
. The lyrics, which became an artwork, are also part of the Fonds de dotation Famille Moulin.