Vice de Forme : In search of Melodies (Première mesure)
Materials:
Paper, Plexiglas
Dimensions:
Dimensions variables
Collection:
Lafayette anticipations - Fonds de dotation Famille Moulin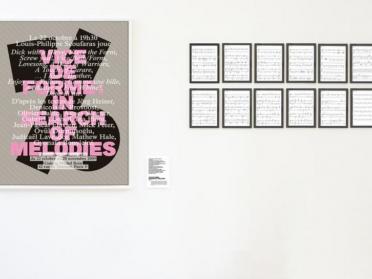 Vice de Forme
is made up of a poster and musical scores hung on a wall. The poster announces a performance that took place in 2009 at the Michel Rein gallery in Paris, during which the twelve musical scores composed from the marble sculpture
Vice de Forme
(d'après Man Ray, d'après Reiser) were set to music. The sculpture is made up of three perfect geometric shapes—a cylinder, a sphere, and a marble cube—which appear in black on the poster. It references both the phallus in Man Ray's
Presse-papier à Priape
(1969) and
Psychose d'attentat
(1974), a comic strip by Jean-Marc Reiser that depicts a nuclear power plant as a phallus with square testicles. At
Saâdane Afif
's request, his collaborators created the scores on the theme of heartbreak. These are also listed on the poster which was presented at the FIAC in 2009 in Paris. By accumulating multiple translations of his work, the artist explores the many perceptions of the work of art.
Text written by Claire Tallon as part of the partnership between the École du Louvre and Lafayette Anticipations – Fonds de dotation Famille Moulin.
Exhibition
Antidote 5
La Galerie des Galeries, Paris (France)
from 20 Oct 2009 to 09 Jan 2010