Laocoon (version 2)
Materials:
Resin, Stainless steel
Dimensions:
Dimensions variables
Collection:
Lafayette anticipations - Fonds de dotation Famille Moulin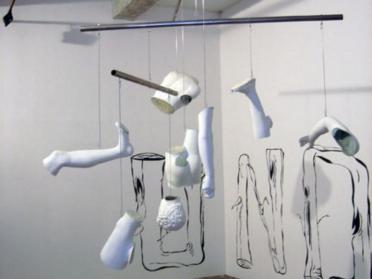 The works of Saâdane Afif often consist of a re-appropriation of everyday objects or major works from the history of art. More than just a dismembered illustration of the Greek myth of Laocoön, this work is a representation of supreme pain, the kind that leads to or follows on from senseless and deadly sacrifices which fill our modern news reports. Mounted as a mobile, body parts are suspended in mid-air, as if frozen in a moment of implosion. From the epitome of beauty of ancient statues to the high ideals one can accept to die for, the body sometimes seeks to escape death, sometimes to succumb to it. A poem co-authored with Mick Peter and printed in iridescent letters is part of the installation, bearing witness to the artist's attention to words.
Exhibitions
You
Musée d'Art Moderne de la Ville de Paris, Paris (France)
from 11 Oct 2019 to 16 Feb 2020
Antidote 2
La Galerie des Galeries, Paris (France)
from 27 Oct to 09 Dec 2006