The Fairytale Recording (Lafayette Anticipations poster)
Collection:
Lafayette anticipations - Fonds de dotation Famille Moulin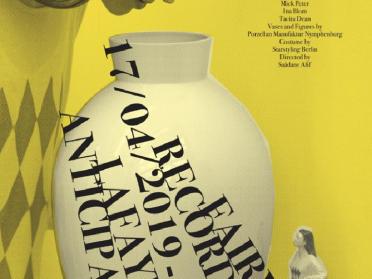 The poster presents
Saâdane Afif
's inaugural performance at Lafayette Anticipations in 2019, which built on work begun in 2011 at the Schinkel Pavilion in Berlin. Displayed on the wall during the event, it provides the credits for the performance. After commissioning texts from Tom Morton, Lili Reynaud-Dewar, Mick Peter, Ina Blom, and Tacita Dean,
Saâdane Afif
composed a performance with the help of soprano Katharina Schrade and composer Ari Benjamin Meyers. The animated lyrics are performed, recited, and finally sung into a vase which is then sealed to create a "magical recording". The lids of these vases, commissioned from the Nymphenburg porcelain factory, are topped with a figure of the opera singer, while the number, title, and date of the recording appear around the rim. By seeking to freeze the word in the manner of François Rabelais,
Saâdane Afif
explores the recording of sound before Thomas Edison.
Text written by Claire Tallon as part of the partnership between the École du Louvre and Lafayette Anticipations – Fonds de dotation Famille Moulin.