On Schneller Angereichert Plays Music by Lyrics
Dimensions:
95 x 138 cm (sans cadre) / 108 x 152 cm (avec cadre)
Collection:
Lafayette anticipations - Fonds de dotation Famille Moulin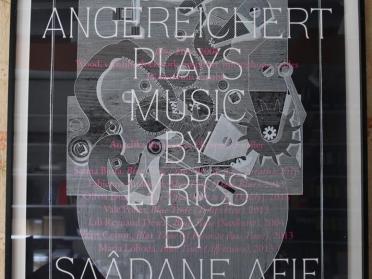 Saâdane Afif
used the poster in connection with his 2004 sculpture
Blue Time (Sunburst)
, whose reversed out silhouette forms a clock from a guitar case and an amplifier. By conferring artwork status on these pre-existing elements, the artist explores his interest in music and the passage of time, in the lineage of Marcel Duchamp's readymades. In 2004,
Saâdane Afif
commissioned Lili Reynaud-Dewar to write the lyrics of a song entitled
Blue Time
that reinterprets his sculpture. This text forms the basis for a multitude of compositions, listed here in pink ink on the poster, in the field of visual arts and music. This poster refers to the performance of the song by the electronic group Schneller Angereichert, composed of Angelika Reichert and Philipp Schneller, during the
Do Disturb
weekend of performances at the Palais de Tokyo in 2015. It was released in an edition of twenty-four copies, as well as in two numbered and signed artist's proofs.
Text written by Claire Tallon as part of the partnership between the École du Louvre and Lafayette Anticipations – Fonds de dotation Famille Moulin.
Exhibition
Do Disturb
Palais de Tokyo, Paris (France)
from 10 Apr to 12 Apr 2015