Saâdane Afif, The Fairytale Recordings
from April 17th to April 22th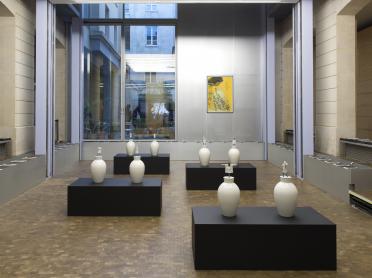 The Fairytale Recordings is an exhibition staging "magic recordings" made by a fairytale character who produces works which represent him at the same time.
During an inaugural performance, the operatic actress Katharina Schrade will put eight songs' texts come from Saâdane Afif's repertoire in eight vases commissioned to the Munich Porzellan Manufaktur Nymphenburg.

The vases lie on bases around a circular stage. Each bears a different figurine on its lid, depicting Schrade in a pose which evokes the baroque oratorio. All recording information of each work - the title of the song, the date and a reference number - are written on the edge of each lids.

As opening credits, a framed wall poster announces the event.

By this performance The Fairytale Recordings is staging the words' magic like a link tool.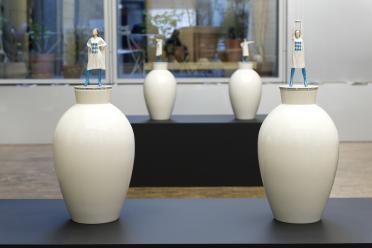 The French artist Saâdane Afif lives and works in Berlin (Germany). He was taught at the Ecole des Beaux-Arts in Bourges. In 2009 he was awarded the Marcel Duchamp Prize for which he presented the artwork Vice de forme : In search of melodies. In 2015 he was awarded the Meurice Prize for the project Das Ende der Welt. His works - performances, texts, sculptures or posters - prove the important role from musicality. Art actually becomes words, music and movement, metamorphosing from one art form into another with the help of talented collaborators.
Since 2004 Saâdane Afif requests from writers and artists to write texts inspired by his artworks. The artist is researching the notions of author and authority in art. For instance he delegates the writing of his own texts to Lili Reynaud-Dewar for an exhibition 2004 in Essen, inviting a mathematician to teach geometry on a public place for one of his performances, or a speaker to recite his texts in the Venetian Lagoon (The Laguna's Tribute : A Corner Speaker in Venice, 2015). This simple experience has fast turned into a highly reflexive practice. The texts have not only questioned the notions of interpretation and commentary about an artwork, but also they have become a fundamental material for Afif's art practice. Thus the visual is transposed into other senses, projecting the imaginary essence of a piece through the interpretations of others. After Afif has repeated this practice more than a hundred times, it has been obvious that the texts must be interpreted by musicians, composers, singers and performers. Saâdane Afif has also staged public performances in order to give life to the texts by singing and voice.
The lafayetteanticipations.com website uses cookies for audience measurement purposes.
By continuing your navigation on this site, you accept their use.