Musiques pour Tuyauterie (But I Do)
Medium:
Silkscreen print; Pen on paper; Painting on wood
Materials:
Plexiglas, Ostrich bones, Pen, Paper
Dimensions:
Dimensions variables
Collection:
Lafayette anticipations - Fonds de dotation Famille Moulin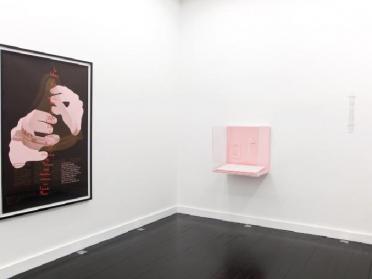 The installation Musiques pour Tuyauterie (But I Do) features the musician's attributes—flute and score—as well as the lyrics in dry transfer lettering. The poster that completes the installation shows disembodied hands floating in the void, detached from the musician's body and positioned so as to hold a flute. Notes from this instrument are also heard in the musical recording that accompanies the installation. If you look closely at the image, the shadow of Marcel Duchamp's urinal is apparent, a contemporary art cliché but also a prosaic everyday object whose plumbing is essential. The work Musiques pour Tuyauterie refers directly to a recording (Lyrics Records LR. 009-2019) in which the artist sets to music lyrics inspired by his work but written by others. Used since 2016, this process, which allows him to question the interpretation of a work of art, has become fundamental to his artistic practice. The interpretations of each musician offer variations of the original idea that led to Saâdane Afif's installations. Using music as a vehicle for popular culture, Musiques pour Tuyauterie (But I Do) therefore aims to reach a large audience to present a collective work of art through its interpretation and creation, while allowing Saâdane Afif to step back from his status as an artist to share it with the audience.

Text written by Manon Prévost-Van Dooren as part of the partnership between the École du Louvre and Lafayette Anticipations – Fonds de dotation Famille Moulin.
Exhibition
Musiques pour Tuyauterie
Galerie mor charpentier, Paris (France)
from 13 Oct to 22 Dec 2018