Cache (Insurance Policy)
Medium:
Installation – Ceramics, concrete, limestone, pigments, chalk, steel, slag, charcoal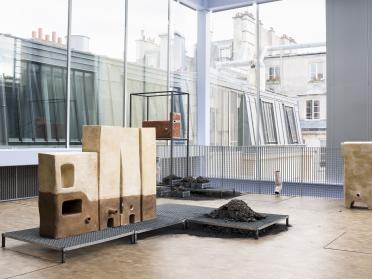 In this work, Jumana Manna has produced an anthropomorphic taxonomy of the khabya. A key feature of rural Levantine architecture, these traditional seed storage chambers were built into the interior of homes to preserve grains for sowing and annual consumption.
The clay sculptures replicate the predecessor of the fridge, but Manna elevates them into gridded structures found in other kinds of refrigerated, industrial storage systems such as seed banks. With these kinds of playful moves, Manna confronts traditional and modern approaches to seed collection. Slag – or leftover matter from coal mining – spills into various areas of the exhibition space, another kind of extraction from the earth, a source of energy that irreversibly transformed agricultural processes, not least its storage and circulation systems. This installation continues to elaborate on the motifs of Manna's latest feature
Wild Relatives
(2018) which follows a transaction of seeds sent from Aleppo, Syria, to the Arctic coal-mining island of Svalbard where the Global Seed Vault is located, and then back to Lebanon. These works build on her interest in the contradictions of modernity's archiving compulsion and the cycles of preservation and erasure that come with it.
Jumana Manna
presents her movie
Wild Relatives
at the movie theater Le Luminor — two steps away from the Fondation - on July, 18 at 7:30pm and on July, 28 at 11am.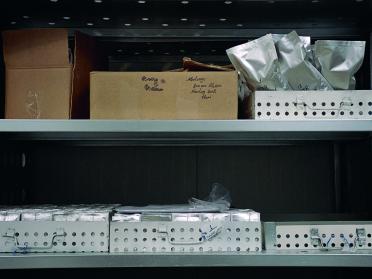 Production specifications
The Fondation preserves and documents traces of the works at various stages of their creation (sketches, models, prototypes, etc.).
Projection de "Wild Relatives" + discussion au Cinéma Luminor