Freedom, love, speed
Medium:
Polyester, plexiglass, stainless steel, reconstituted ivory, silver, Ipad, speakers and electronic system
Dimensions:
140 x 45 x 30 cm
Collection:
Fonds de dotation Famille Moulin - Acquisition 2015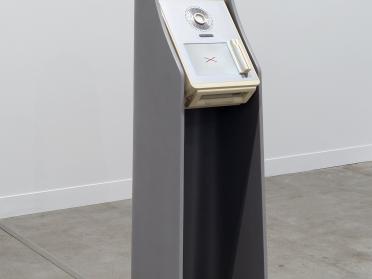 The funny and enigmatic sculptures of Camille Blatrix are all invitations to enter into outstanding stories. These forms of narration, as well as their choice of very elaborate materials and their presentation, give to the objects of the artist a "mode of existence" without equivalent.
For the 13th Biennial of Lyon (2015),
Camille Blatrix
conceives a cashpoint of a particular kind: this vending machine feels feelings ... and speaks to its user of the sadness of the world. The visitor has to introduce his blue card and to enter into a dialogue with a machine with a design that is both futuristic and full of memories. "I always had trouble with vending machines," says the artist. "They have never been able to give me what I needed ..." Or how a piece of random technology is suddenly really interested in the people who use it.
Production specifications
The Fondation preserves and documents traces of the works at various stages of their creation (sketches, models, prototypes, etc.).
Oeuvre exposée à l'occasion de "La Complainte du Progrès" au MRAC (Musée Régional d'Art Contemporain Occitanie/Pyrénées-Méditerranée) de Sérignan.
Oeuvre présentée dans le cadre de l'exposition "FluxesFeverFuturesFiction" à Azkuna Zentroa (Bilbao, Espagne)
Mise en place de la production de l'oeuvre
Choix de la couleur et ajustement de la pièce moulée en polyester
Camille Blatrix
Dirk Meylaerts