Kali Malone (ft Stephen O'Malley & Lucy Railton) · Does Spring Hide Its Joy
Tuesday 21 Mar 2023 from 8:30pm to 10pm
At l'Église du Saint-Esprit (Paris 12), with Les Inspirations Visibles et Ideologic Organ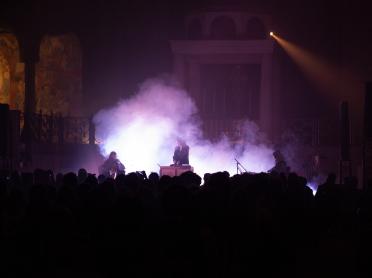 On the occasion of the "Au-delà" exhibition - whose soundtrack was composed by Kali Malone - Les Inspirations Visibles is partnering with Lafayette Anticipations, Ideologic Organ Music and l'Association des Grandes Orgues à l'Église du Saint-Esprit - Jeanne Demessieux to present for the first time in France "Does Spring Hide Its Joy", an immersive piece by the composer, accompanied by Stephen O'Malley on electric guitar and Lucy Railton on cello.
Kali Malone's experience with pipe organs, harmonic theory and long-form composition is an important starting point for this work, which was created between March and May 2020.

"Does Spring Hide Its Joy" is an experiment of variable duration that follows the slow evolution of harmony and timbre between cello, sine waves and electric guitar. The gradual but constant changes in harmony challenge the listener's perception of structure and movement. As the listener grasps the music, a slight shift in perspective guides the attention into a new harmonic experience.

"Like most of the world, my perception of time went through a significant transformation during the pandemic confinements of spring 2020. Unmarked by the familiar milestones of life, the days and months dripped by, instinctively blending with no end in sight. Time stood still until subtle shifts in the environment suggested there had been a passing. Memories blurred non-sequentially, the fabric of reality deteriorated, unforeseen kinships formed and disappeared, and all the while, the seasons changed and moved on without the ones we lost. Playing this music for hours on end was a profound way to digest the countless life transitions and hold time together." Kali Malone

The compositions of Kali Malone implement specific tuning systems in minimalist structure for pipe organ, choir, chamber music ensembles, and electroacoustic formats.
Malone's music is rich with harmonic texture through synthetic and acoustic instrumentation in repetitive motions and extended durations. Her music emits distinct emotive, dynamic, and affective hues which bring forth a stunning depth of focus. Kali Malone has performed extensively in Europe and North America at Musica Festival, Berlin Atonal, Moogfest, Kanal Pompidou, Elbphilharmonie, Paris Philharmonie, and Radio France.
Her commission projects and residencies include the INA grm, The Richard Thomas Foundation, MACBA, Macadam Ensemble, Orgelpark, Elektronmusikstudion, Tempo Reale and Lafayette Anticipations. She collaborates and performs with various artists, including Stephen O'Malley, Lucy Railton, Frederikke Hoffmeier, Leila Bordreuil, Drew McDowall, Caterina Barbieri, and Ellen Arkbro.
In 2016 she co-founded the record label and concert series XKatedral, together with Maria W Horn, in Stockholm.
Stephen O'Malley is a guitarist, producer, composer, and visual artist who has conceptualized and founded numerous drone and experimental music groups for over two decades – SUNN O))), KTL, and Khanate being among his best-known projects.
Wildly prolific, O'Malley's oeuvre defines remarkable breadth, complexity and multidisciplinary interests. It includes collaborations with a wide range of experimental musicians and composers, including Scott Walker, choreographer Gisèle Vienne, the authors Dennis Cooper and Alan Moore, composers Alvin Lucier and Kali Malone, artist Fujiko Nakaya, filmmaker Jim Jarmusch, experimental music research centres IRCAM, INA grm (Paris), EMS (Stockholm) and many others.
O'Malley is also a vigorous live performer and has toured around the world since 2003.
Lucy Railton has been an active performer, programmer and music maker since 2008, releasing albums on Modern Love, Editions Mego - Portraits GRM, PAN, ECM, SN Variations, Shelter Press and Takuroku.
Having emerged from a long-term engagement with classical and contemporary music, she now makes her own work alone or in collaboration with artists and musicians from varied disciplines, including Rebecca Salvadori, Peter Zinovieff, Catherine Lamb, Khyam Allami, Kit Downes, Kali Malone and Stephen O'Malley, and in recent years has worked with Beatrice Dillon, Philippe Parreno, Rhodri Davies, Laura Grace Ford, Alex Hills, choreographers Akram Khan and Sasha Milavic Davies, Yair Elazar Glotman and the film director John Lee. As an organizer she has been involved in presentations of work by Maryanne Amacher and Henning Christiansen amongst many other productions during her time as co-director at London Contemporary Music Festival and Kammer Klang, and has performed in focus concerts lead by Pauline Oliveros, Iancu Dumitrescu, Mary Jane Leach, Cally Spooner, Matmos and many more. Railton has performed at festivals and venues including Dark Mofo (Tasmania), Blank Forms (New York), Cafe Oto, Borealis Festival, Atonal, Koln Philharmonie, Barbican, Berlin Jazz, Donaueschingen, Sydney Opera House, Rewire, AKOUSMA (GRM), Norbergfestival, Centro de Creación Contemporánea de Andalucía and CTM.