Yuri Pattison

Born in 1986 at Dublin (Irlande).
Lives and works in Londres (Royaume-Uni).
Yuri Pattison's work explores the multiple relationships between visual cultures, space, communication technologies and the circulation of information. The artist covers the various media often juxtaposed or dispersed, uses data and metadata, along with a mixture of factual materials, archival sources and historical fragments.
Solo exhibitions include context, collapse, mother's tankstation project, London; Trusted Traveller, Kunst Halle Sankt Gallen (both 2017) and user, space, Chisenhale Gallery (2016). Recent group exhibitions include The Dutch Savannah, Museum Hedendaagse Kunst, Museum De Domijnen; Territories of Complicity, transmediale 2018 face value, HKW – Haus der Kulturen der Welt, Berlin (both 2018); The Policeman's Beard is Half Constructed, Bonner Kunstverein; The Everywhere Studio, ICA Miami; STILL HUMAN, Rubell Family Collection/ Contemporary Arts Foundation, Miami; and Extra Bodies, Migros Museum, Zurich (all 2017); British Art Show 8 (touring 2015-2017); Transparencies, Bielefelder Kunstverein / Kunstverein Nürnberg, The Weight of Data, Tate Britain (2015). Yuri Pattison was the recipient of the 2016 Frieze Artist Award.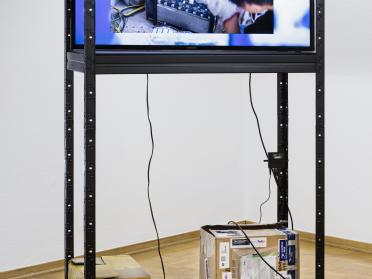 Exhibited at Lafayette Anticipations