The backstage of production : Yuri Pattison
Thursday 12 Jul 2018 from 5:30pm to 7pm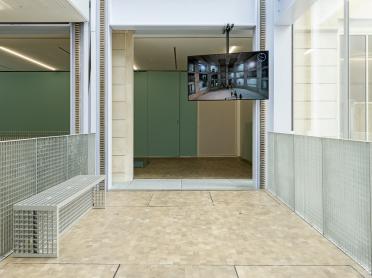 'The backstage of production' lectures cycle follows its course. The production team, in dialogue with curators, artists and their collaborators, shine a light on the processes of conception and production of the various artistic projects supported by Lafayette Anticipations.
Irish artist Yuri Pattison, accompanied by Francesca Hunt and Brian Mitchell from the crisis simulation company CrisisCast, and Hicham Khalidi (Lafayette Anticipations associate curator), presents the different production stages of his new video public solitude (crisis cast). They highlight the artistic and social challenges of the project for which the artist played the role of commissioning client for several procedural, at times banal, behavioural exercises devised by CrisisCast for the video.

The movie takes place in an unfinished and long-since scuppered theatre in central London, that doubles as the airport setting with the role-players performing the characters of travellers, border security agents, and suspects. The work serves as a document of the one-day shoot with the production processes and mechanisms of the simulation laid bare. Furthermore, the movie's playback is a reflection of the ongoing production process; indeed, Pattison can manage the media player remotely and upload new edits of the video allowing the piece to evolve as the exhibition develops.

This video furthers the artist's interests in consensus reality, simulation and modelling as well as in hard and soft concepts such as borders and identity. The video sheds light on the often outsourced aesthetic production processes used by governments at a time of major upheavals in foreign policy, exemplified by the hardening of borders and immigration controls both in the United Kingdom and worldwide.

Access free of charge for all.
Yuri Pattison's work explores the multiple relationships between visual cultures, space, communication technologies and the circulation of information. The artist covers the various media often juxtaposed or dispersed, uses data and metadata, along with a mixture of factual materials, archival sources and historical fragments.
Solo exhibitions include context, collapse, mother's tankstation project, London; Trusted Traveller, Kunst Halle Sankt Gallen (both 2017) and user, space, Chisenhale Gallery (2016). Recent group exhibitions include The Dutch Savannah, Museum Hedendaagse Kunst, Museum De Domijnen; Territories of Complicity, transmediale 2018 face value, HKW – Haus der Kulturen der Welt, Berlin (both 2018); The Policeman's Beard is Half Constructed, Bonner Kunstverein; The Everywhere Studio, ICA Miami; STILL HUMAN, Rubell Family Collection/ Contemporary Arts Foundation, Miami; and Extra Bodies, Migros Museum, Zurich (all 2017); British Art Show 8 (touring 2015-2017); Transparencies, Bielefelder Kunstverein / Kunstverein Nürnberg, The Weight of Data, Tate Britain (2015). Yuri Pattison was the recipient of the 2016 Frieze Artist Award.