Rebecca Lamarche-Vadel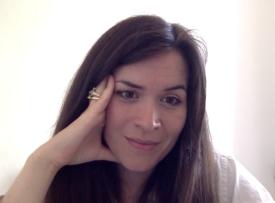 Rebecca Lamarche-Vadel is director of Lafayette Anticipations, Fondation des Galeries Lafayette. In 2020 she was the chief curator of the Riga Biennial, "and suddenly it all blossoms", and director of the feature film based on the exhibition.
From 2011 to 2019, she was curator at the Palais de Tokyo where she curated, among others, the cartes blanches to Tomas Saraceno, ON AIR (2018-2019) and to Tino Seghal (2016). She has also curated the exhibitions of Marguerite Humeau, FOXP2 (2016), Ed Atkins, Bastards (2014), Helen Marten's Evian Disease (2013), or David Douard's Mo'swallow (2014), as well as the group exhibition Le bord des mondes(2015).
She regularly collaborates with international institutions, with the projects 72 hours of truce: exploring immediate signs (2013) and Bright intervals (2014) at MoMA PS1 (New-York), FOXP2 (2016) at Nottingham Contemporary, Landscape (2014) with the Stedelijk Museum (Amsterdam) or Des présents inachevés for la Biennale de Lyon (with Oliver Beer, Julian Charrière, Jeremy Shaw and Benoît Pype, 2013). In 2017, she was co-curator of the exhibition Voyage d'Hiver at the Château de Versailles.
Rebecca Lamarche-Vadel regularly publishes in French and international journals and catalogues, and participates in numerous seminars and juries in France and abroad (FIAC, French Pavilion at the Venice Biennale etc).
She has a degree in Art History, History and Political Science from the University of Paris I - La Sorbonne.