HUMPTY \ DUMPTY, an exhibition against the odds
Friday 09 Dec 2022 from 7:30pm to 9pm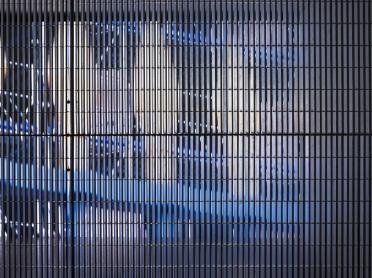 A conversation about Cyprien Gaillard's exhibition and the themes of time, disorder, margins and resistance.

Rebecca Lamarche-Vadel, curator of the exhibition at Lafayette Anticipations and the Palais de Tokyo, in conversation with the authors of the catalogue Lisa Le Feuvre, Louis Henderson and Olivier Schefer.
Rebecca Lamarche-Vadel is director of Lafayette Anticipations, Fondation des Galeries Lafayette. In 2020 she was the chief curator of the Riga Biennial, "and suddenly it all blossoms", and director of the feature film based on the exhibition.
From 2011 to 2019, she was curator at the Palais de Tokyo where she curated, among others, the cartes blanches to Tomas Saraceno, ON AIR (2018-2019) and to Tino Seghal (2016). She has also curated the exhibitions of Marguerite Humeau, FOXP2 (2016), Ed Atkins, Bastards (2014), Helen Marten's Evian Disease (2013), or David Douard's Mo'swallow (2014), as well as the group exhibition Le bord des mondes(2015).
She regularly collaborates with international institutions, with the projects 72 hours of truce: exploring immediate signs (2013) and Bright intervals (2014) at MoMA PS1 (New-York), FOXP2 (2016) at Nottingham Contemporary, Landscape (2014) with the Stedelijk Museum (Amsterdam) or Des présents inachevés for la Biennale de Lyon (with Oliver Beer, Julian Charrière, Jeremy Shaw and Benoît Pype, 2013). In 2017, she was co-curator of the exhibition Voyage d'Hiver at the Château de Versailles.
Rebecca Lamarche-Vadel regularly publishes in French and international journals and catalogues, and participates in numerous seminars and juries in France and abroad (FIAC, French Pavilion at the Venice Biennale etc).
She has a degree in Art History, History and Political Science from the University of Paris I - La Sorbonne.
Olivier Schefer is a writer and philosopher.
He teaches Aesthetics at the University of Paris I. Translator and interpreter of Novalis' philosophical fragments, he devotes his work to the contemporary echoes of Romanticism, to the figures of the somnambulist and the revenant, as well as to the problematic of ruins and entropy. He has recently published an essay entitled Sur Robert Smithson, Variations dialectiques (La Lettre Volée, 2021).
Lisa Le Feuvre is a curator, writer, and editor. Creating exhibitions, editing publications, developing collections, delivering public lectures, shaping academic programs, and publishing essays, she is committed to communicating the necessary and urgent role for art in society.
Currently Le Feuvre is the inaugural Executive Director of Holt/Smithson Foundation, an artist-endowed foundation dedicated to the creative legacies of artists Nancy Holt and Robert Smithson. Collaborating with artists, writers, thinkers, and institutions the Foundation realizes exhibitions, publishes books, initiates artist commissions, programs educational events, encourages research, and develops collections globally from its headquarters in New Mexico. Previously based in the UK she directed the Henry Moore Institute; the contemporary art program at the National Maritime Museum; has worked across London arts institutions including Tate Britain, Serpentine Gallery, The Photographers' Gallery; and as an academic has been based at Goldsmiths and Birkbeck College in London. Le Feuvre is a contributor to the publication accompanying Humpty \ Dumpty.
Louis Henderson is a filmmaker and writer who experiments with different ways of working with people to address and question our current global condition defined by racial capitalism and ever-present histories of the European colonial project. 
Henderson's films and installations have been shown in various international film festivals, art museums and biennials and are distributed by LUX and Video Data Bank. His writing has been published in both print and online in books and journals. At present, Henderson is a doctoral candidate at the École Nationale Supérieure d'Arts de Paris-Cergy. His research looks into the riverscapes of the East of England and Guyana through "spiral retellings" of the works of Wilson Harris and Nigel Henderson. He lives and works in Paris and Berlin, and is a member of the SWRG.