Surface Horizon, Jean-Marie Appriou and Marguerite Humeau
Editor:
Lafayette Anticipations
Graphic Designers:
Alice Gavin Services
Photographers:
Pierre Antoine and Julia Andréone
Language:
French - English
Date of release:
Aug 2021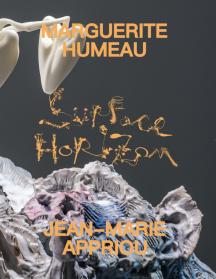 This catalogue is published on the occasion of the exhibition Surface Horizon by the artists Jean-Marie Appriou and Marguerite Humeau from 17 June to 5 September 2021.
The book immortalizes this original project devoted to "weeds" with medicinal powers. The plants chosen by Marguerite Humeau and the odyssey they embody within the exhibition reflect the sensitive state of our world. They imagine new relationships with the soil and the beings that make up our ecosystems. This journey is punctuated by works by Jean-Marie Appriou which reactivate and invent behaviours as well as ancestral or future know-how.
Perceived and exposed by photographers Julia Andreone and Pierre Antoine, the exhibition is revealed in all its aspects thanks to numerous views introduced by a text by Rebecca Lamarche-Vadel, director of Lafayette Anticipations and curator of the exhibition.