The Ten Murders of Josephine: [Composition #4]
Medium:
Composition for an Opera / 8-Channel installation with Organbook and Keyframe; Telephone; Dot Matrix Printer; 3 Synchronized LED text displays. This version has been specifically adapted for a single space. 
 Duration: 45 min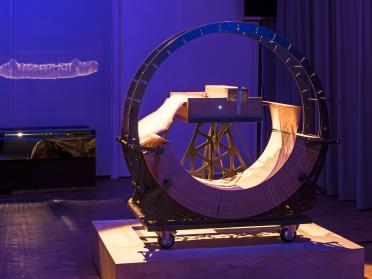 The Ten Murders of Josephine is a longstanding Opera project by artist Rana Hamadeh, structured through several evolving iterations that continuously trouble and over-write one another. These iterations include a series of sound-based compositions, theatrical productions, writings, a film-in-the-making and a study group. Its protagonist, Josephine, loosely based on Kafka's mouse songstress, is introduced as a structuring agent of the project's questioning of 'valid speech', property, labor, legality, documentality, o/aurality, and theatre. 
Exploring the constitutive conditions of 'validity' within legal discourse, Hamadeh asks what would it require to constitute oneself – or to emerge – as a 'testimonial subject', not only outside the bounds of the court of law, but even further, in place of the legal subject? Hamadeh's activation of the 'testimonial' attunes to all that is invalid, irrational; unspeakable and unmarkable in relation to the law; "that which subsists within the documental voice, both because and in spite of that voice". It points to an 'erased archive of erasure' and materializes – phonically – as a monument to absent speech. 
 One of Hamadeh's cues within the composition is the story of Qur'anic revelation and Hamadeh's questioning, through it, of the notion of the 'proper' (proper speech) in terms of its historic conjunction with 'property': The Archangel Gabriel demands the Prophet Mohammad to 'recite'. Often confused with the demand to 'read', the verb 'recite' structures the legal understanding of the body as a bond, as a form of debt to its creator. Another cue is the Gregson vs. Gilbert legal case of 1783 – the only surviving record of the massacre in which the captain of the Zong slave ship ordered the drowning of 133 African slaves in order to claim insurance over their deaths. This benchmark case does not only point to the chilling jurisprudential logic of the slavery system, but, further, continues to inform and underpin our understanding of 'valid speech' as the ethos of modern citizenship. Other cues that Hamadeh draws on and diverges from include a Palestinian anti-colonial love song that puts into question the folklorization of oral testimonies; a testimony by a Guantanamo Bay detention centre ex-detainee, revealing the structures of state-sponsored proxy detention centres and proxy legal bodies (the Miauw Miauw commercial played on loop at the Guantanamo Bay detention centre as a torture song emerges as part of the sonic material of the composition); the histories of writing and coding; trance as a testimonial structure etc…
 The current installation is configured as a networked system of interplaying parts. The communications between these parts allow for different narratives, tenses, spaces, events, and characters from the Opera to emerge and disintegrate across a forty-five minute looping score. Interrupted by the live processing of the audience's speech as well as the live decomposition of the score made by a looping organbook, the work can be experienced as a 'breathing', 'morphing' sonic encampment in the foundation's building. Credits: Technical Collaborators Jorg Schellekens: Co-Sound Design and Light Design Andre Castro & rad0van Misovic: System design Andre Castro: Live Voice Processing Performers Gerrie de Vries: Solo Vocalist Aerea Negrot: Chorus Gerty van de Perre: Chorus Rosa de Graaf: Commentary Executive Team Decap Company: Execution of Organbook Keyframe Rik Fernhout: Consultant Curatorial Team Defne Ayas: Director Witte de With Natasha Hoare: Curator Hicham Khalidi: Curator exhibition Lafayette Anticipations Maaike Gouwenburg: Creative Producer Patrick C. Haas: Producer Rosa de Graaf: Assistant Curator The Ten Murders of Josephine is commissioned by Witte de With Center for Contemporary Art, Rotterdam. Co-produced by A.P.E (Art Projects Era) and Productiehuis Theater Rotterdam. Production support by Lafayette Anticipations - Fondation d'entreprise Galeries Lafayette, and In4Art Collection. The Ten Murders of Josephine is supported by Mondriaan Fonds, AFAC, Fonds 21, Gemeente Rotterdam, and Prins Bernhard Cultuurfonds. With Special Thanks to Omar Berrada, Danielle Gallegos, Tanja Elstgeest, Huub Krom / Oorbit Studio, Studio Santeboutique, Hicham Khalidi, Lafayette Anticipations - Fondation d'entreprise Galeries Lafayette, Francois Quintin, Rik Fernhout, Team Witte de With, Sisters in Crime study group.