Reproductive Exile
Lucy Beech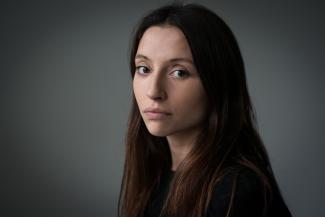 Born in 1985 at Hull (Royaume-Uni), lives and works in Berlin, Londres (Allemagne, Royaume-Uni).
Medium:
HD Video. Duration: 30 minutes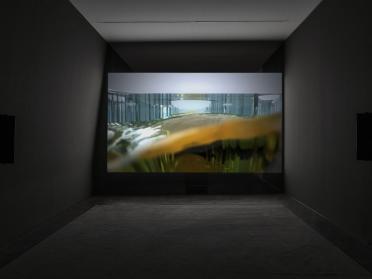 Lucy Beech's new film Reproductive Exile follows the fictional story of a woman embarking in cross-boarder assisted reproduction. Whilst considering the gender bias in biomedical research the looping film is characterised by the entrapment of a perpetual journey and reveals the protagonists' dependency on an intricate constellation of invisible female bodies; human and non-human, that work, care, constitute and provide for her reproductive journey. These bodies are invisibly linked by the production and sharing of animal and human sex hormones central to reproductive technologies.
The film is shot in Czech Republic, where the lack of legislation associated with reproductive rights offers a degree of freedom to a diverse range of commissioning parents who are driven to the country by a range of social, political and economic forces, whilst sustaining a booming fertility industry. The story unfolds in a fictional, private, international clinic built in a former public sanatorium where the protagonist is introduced to 'Eve' (short for Evatar) a three-dimensional representation of the female reproductive system. Based on research into recent developments in reproductive science, 'Eve' is the future of drug testing in women and personalised medicine. Pre-clinical research on women's health has historically involved mostly male-derived cells and male animals, these practices have resulted in a lack of information about female physiology. Eve addresses this absence of the female body in the history of its own treatment and as the intended parent discovers more about her body's incapacity to produce the hormones she needs to stimulate her ovaries, she becomes obsessed with Eve, confiding in her about the drugs she injects daily, derived in some cases from pregnant horse urine and in others from concentrated urine of menopausal women.
Credits
Crew
:
Producer
: Aude Mohammedi-Merquiol,
Executive producer
: Mikulas Novotný,
Director of Photography
: Lukáš Milota,
Focus puller
: Jakub Vrbik,
Camera Assistant
: Zdenek Vichr,
Assistant director
: Zuzana Walter,
Sound recordist
: Adam Laschinger,
Boom operator
: Honza Skála,
Props
: Matej Sykora,
Driver
: David Moravčíkf,
Production assistants
: Adriana Ingeliová, Noé Robin, Sylvain Dreyfuss,
Editing
:
Lucy Beech
,
Composition
: Graham Massey,
Sound design
: Rob Szeliga,
Grading
: Ludovic Roussaux,
VFX
: Nadeem Ali,
3D modelling
: Kazusyoshi Sato
Cast
: Anne Von Keller, Laurence Bouvard, Melinda King, Abigail Rice, Katherine Veckerová, Eva Larvoire, Tereza Paclova Richtrová, Vilma Frantová, Maren Brown, Lucia Jágerčíková
Special thanks
: Anna Colin, Oliver Laric, Hélène Malmanche, Bill Beech, Rob Crosse