Rauschen
Medium:
Copper, metal, polystyrene, fibreglass
Dimensions:
9 x 4 x 2,5 m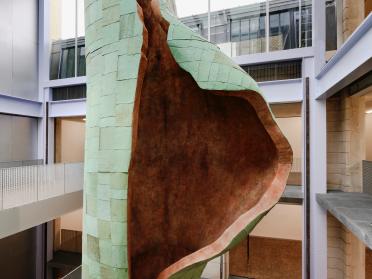 Katinka Bock proposes to occupy the empty volume of the Foundation's central space with a new and spectacular installation in suspension, in which her poetics of measurement, her rare sensitivity to matter and time, will be expressed in majesty.
Rauschen is an enlarged reproduction of a clay sculpture entitled Wunschkonzert, also presented in the exhibition. It is enveloped in copper plates from the dome of the Anzeiger Hochhaus in Hanover, a legendary place of editorial activity that has given rise to such important press titles as Die Stern and Der Spiegel. This monumental hollow center questions the present: is it not the physical experience of disordered elements of the past?