public solitude (crisis cast)
Medium:
HD Video, silent, networked digital signage media player
Dimensions:
Durée : variable, en boucle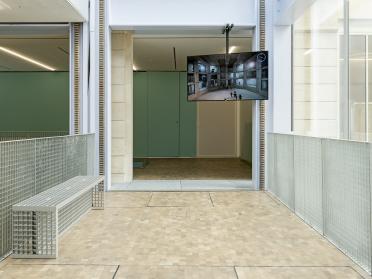 Yuri Pattison presents a new video work produced in close collaboration with Crisis Cast, a film and event production company specialising in crisis management role-play and disaster training dramas. The company simulates crises, such as traffic accidents and security events for corporate and government clients worldwide, including the UK Home Office. Its experience in developing exercises relating to surveillance, public safety and border security served as the basis for the collaboration with the artist.
public solitude (crisis cast) is born out of the artist's interest in airports as complex socially construed spaces, with unique sets of rules and behaviours. With artist acting as commissioning client a number of procedural, sometimes banal, behavioural exercises were devised by Crisis Cast for the video. The movie takes place in an unfinished and long since scuppered theatre in central London, that doubles as the airport setting with the role-players performing the characters of travellers, border security agents, and suspects. The work serves as a document of the one day shoot with the production processes and mechanisms of the simulation laid bare. This video furthers the artist's interests in consensus reality, simulation and modelling as well as in hard and soft concepts such as borders and identity. The video sheds light on the often outsourced aesthetic production processes used by governments at a time of major upheavals in foreign policy, exemplified by the hardening of borders and immigration controls both in the United Kingdom and worldwide. First institutional presentation in France. Public program: The backstage of production Thursday, July 12, 7:30 PM The artist in conversation with Hicham Khalidi (curator) & Crisis Cast (film production company)