HAIR PORTRAITS
Medium:
Collages, vintage magazines, steel, and plastic
Courtesy:
Courtesy the artist and Zeno X Gallery, Antwerp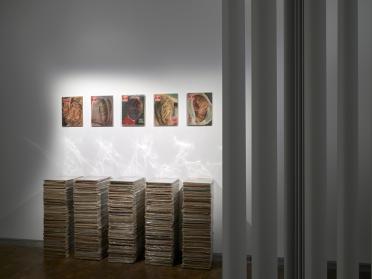 These stacks are made up of popular magazines from the 1960s and 1970s that helped build the extraordinary (celebrity, exceptional lives) and bring it into the ordinary, such as in doctors', hairdressers', or dentists' waiting rooms.
Each magazine in these stacks has been wrapped in transparent plastic, like a precious object to be preserved from the passage of time. In the context of the exhibition, these banal objects are transformed into objects of curiosity.
On the cover of these magazines silhouettes appear of female icons whose faces have been covered with hair which hides the identity of these famous women—actresses or singers—who have become fantastical hybrid beings. Half human, half animal, they bring a form of contemporary mythology to life. These magazines, tools of the cult of celebrity, contribute to populating our imaginations with legendary beings.