CARTOGRAPHY
Medium:
Print on Forex, wood, and polyurethane foam
Courtesy:
Courtesy the artist and Zeno X Gallery, Antwerp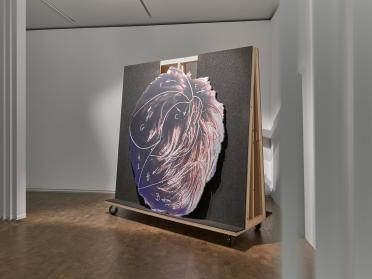 This work came about through Martin Margiela's desire to reconstruct the hair on top of a head with fake fur.
Unlike natural hair, which spreads out in a multitude of directions, fake fur only has one. This project involved multiple experiments and research to reproduce the circular movement of hair that is so difficult to imitate. Here, he focuses on the tourbillon (whirlpool), the area at the top of our scalp. According to some popular beliefs, clues to the future can be read there. It is also the place where the memory of existence and its experiences are stored. Margiela installs Cartography on a trolley used to move masterpieces in museums. This piece, produced with extremely modest materials, contrasts with this backdrop, which is usually intended for the most precious works.