Digital Jacquard Loom
Medium:
Digital weaving loom (TC2)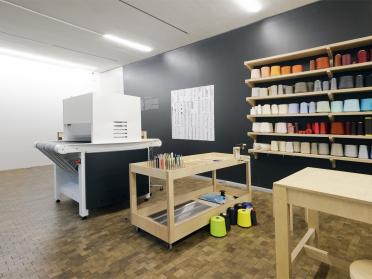 This high-tech machine is especially developed to bridge the gap between hand looms and industrial weaving machines. It uses software, such as Photoshop, to generate patterns which the weaver can produce directly with the possibility of changing the yarns and adapting the design while weaving. For the exhibition, a selected group of senior designers is invited to use the loom for a personal research project.
The Jacquard atelier brings back to life the alchemy of weaving which does not consist of creating an image layer-upon-layer like a painting, but writing from left to right, line by line, bottom to top. The image has to be thought out, envisioned and constructed in every detail, before we can start to actually make it. The phase of sketching lies in the endless stream of samples, exploring and innovating different weaves, thickness of thread, choice of fiber, etc. This loom will push the technical boundaries, demonstrate the range of weaving's possibilities and the virtuosity of the weaver. Designers Bless (Desiree Heiss and Ines Kaag) / Brigitte Dalmaijer / Vera de Pont /
Hella Jongerius
/ Jos Klarenbeek / Sarah Meyers et Laura Fügmann / Annie Millican / Edith van Berkel / Aliki van der Kruijs
Production specifications
The Fondation preserves and documents traces of the works at various stages of their creation (sketches, models, prototypes, etc.).