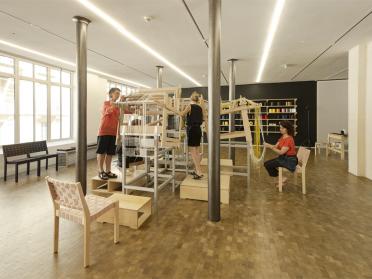 According to the basic principle of weaving, a system of threads of warp and weft which cross each other at right angles, Seamless Loom researches the possibilities of 3D weaving. Thus this weaving machine, designed at JongeriusLab, is composed of four looms cut and joined together to form a new machine to weave real three-dimensional woven textile "bricks".
Seamless Loom will be in constant operation, producing one, possibly two bricks per day. This continuous production mirrors the dynamic of industrial manufacturing but has the possibility to adapt production at any time, while producing. Then the bricks are combined into a wall of flexible architecture. Seamless Loom also questions our living environment. As plastic poses more and more ecological problems, industrials are now addressing the issue of industrial production of 3D textiles to replace it, fabric being a light, strong and sustainable alternative. If three-dimensional shapes were woven for the interior, what tactile quality could this add to our home ?
Production specifications
The Fondation preserves and documents traces of the works at various stages of their creation (sketches, models, prototypes, etc.).